What is a Pumptrack?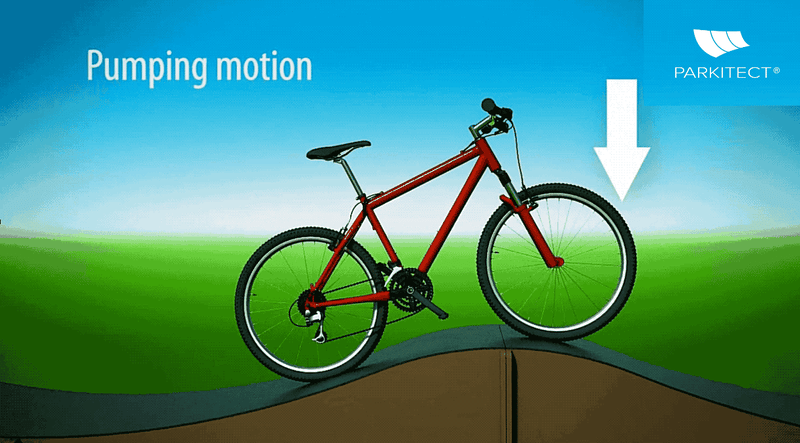 Animation demonstrating the pumping motion used to ride a pumptrack.
We're used to this question. We get it every time (well, most times) someone asks us about our business, and if you do a quick search on Google for "pumptrack," you quickly discover that the most popular search query related to pumptracks is "what IS a pumptrack?" So we wanted to take the time to quickly answer that question, thoroughly and completely, once and for all.
Besides being an innovative play park amenity trending in more and more public spaces, a pumptrack is a track for wheeled sports equipment that, when ridden properly, does not require pedaling or pushing, but a "pumping" action to maintain momentum (see animation above for demonstration).
"A: Kids love them, amateurs love them, pros love them. Pumptracks should be in every town just like kids' playgrounds or soccer fields. Pumptracks get people involved sports, get them together, get them to have fun outside and do something for their health!"

Claudio Caluori, Founder, Velosolutions
Watch Redbull "Crashed Ice" standout Markus Iuola demonstrate how to ride a pumptrack by skating on our concrete pumptrack in Helsinki, Finnland:
The main components of pumptrack design: berms and rollers.
A pumptrack is a loop and consists of a series of rollers...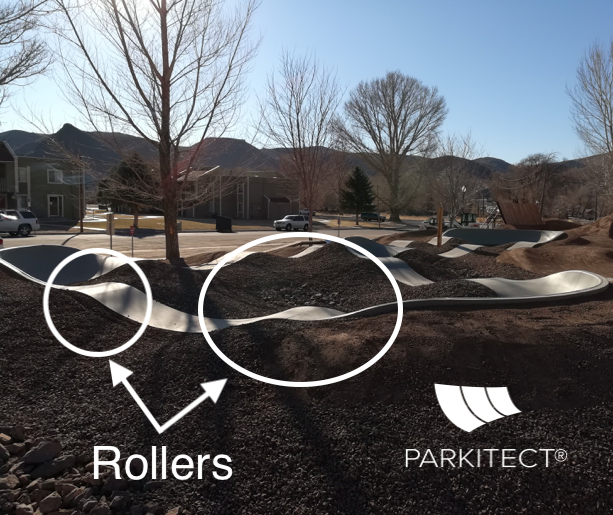 A PARKITECT modular pumptrack made of pre-cast concrete incorporated into the landscape. The "rollers" are the bumps in the track.
and berms.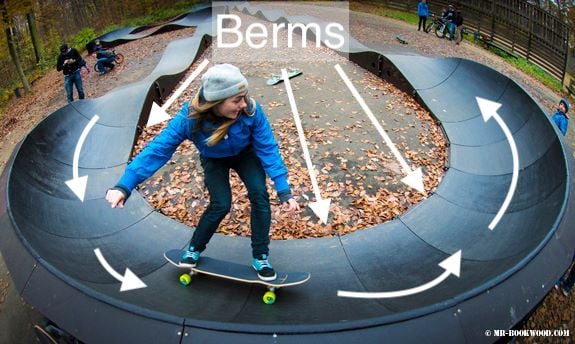 A PARKITECT modular pumptrack in Neu Isenburg, Germany. The berms are the corners of the track.
The rollers are the bumps or small hills in the track, and the berms are the corners.
The "pump" part is the pushing-down and pullling-up action performed by riders in accordance with the structure's design as the main source of propulsion. It's a thrilling experience because users experience an up-and-down feeling of weightlesness, similar to the drops and climbs in a roller-coaster, but on a micro-level. Pumptracks are designed this way so they can be ridden completely without the need for pushing and pedaling.
Composition and design of a pumptrack.
Pumptracks are made of different material types.
Dirt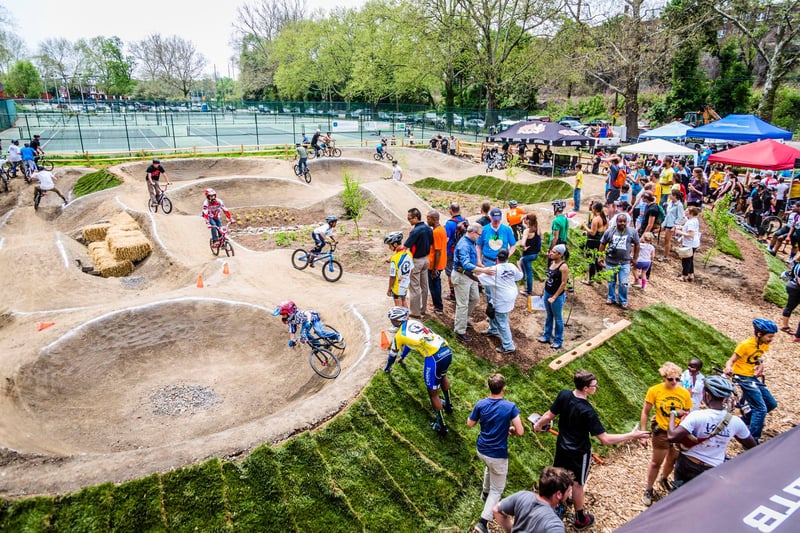 Patrons and spectators at the Philly Pumptrack. Photo courtesy of Philly Pumptrack
The first Pumptracks were carved out of dirt. This method is still the most widespread and economic way to construct a pumptrack because all that is needed is a shovel, space and the labor to build the structure. The drawback to dirt pumptracks is that they require more frequent maintenance, as weather and use will quickly erode and alter the design.
---
Wood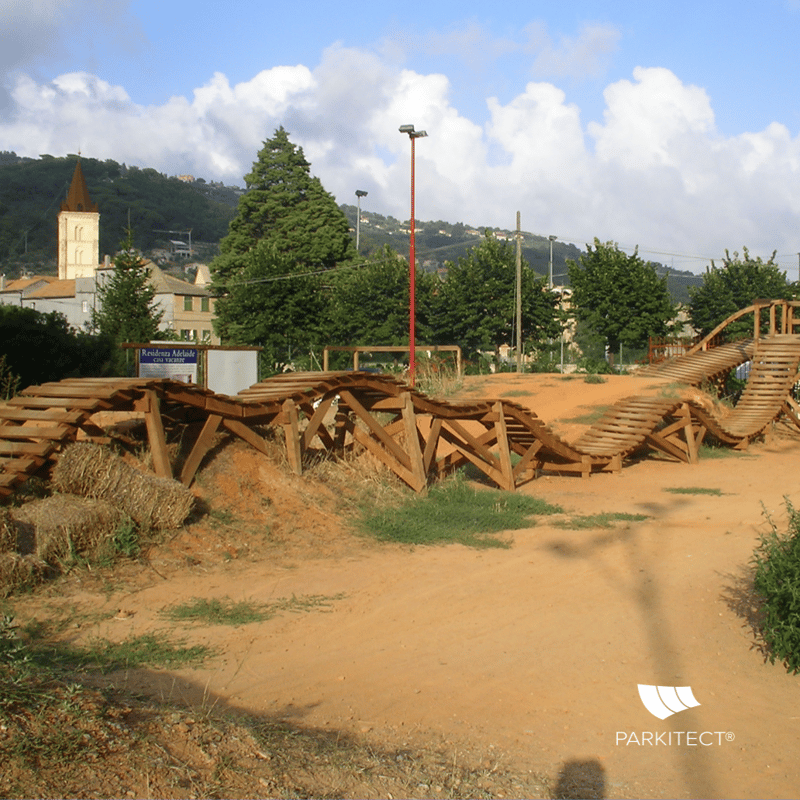 The original PARKITECT pumptrack: Flydown Anaconda in Finale Ligure, Italy made of wood in 2003.
Wood can also be used to create a pumptrack, but is not incredibly common because wood surfaces can quickly become slick when exposed to rain and other weather conditions. The first track that founder Erik made was comprised of wood at the Finale Ligure bike park.
---
Concrete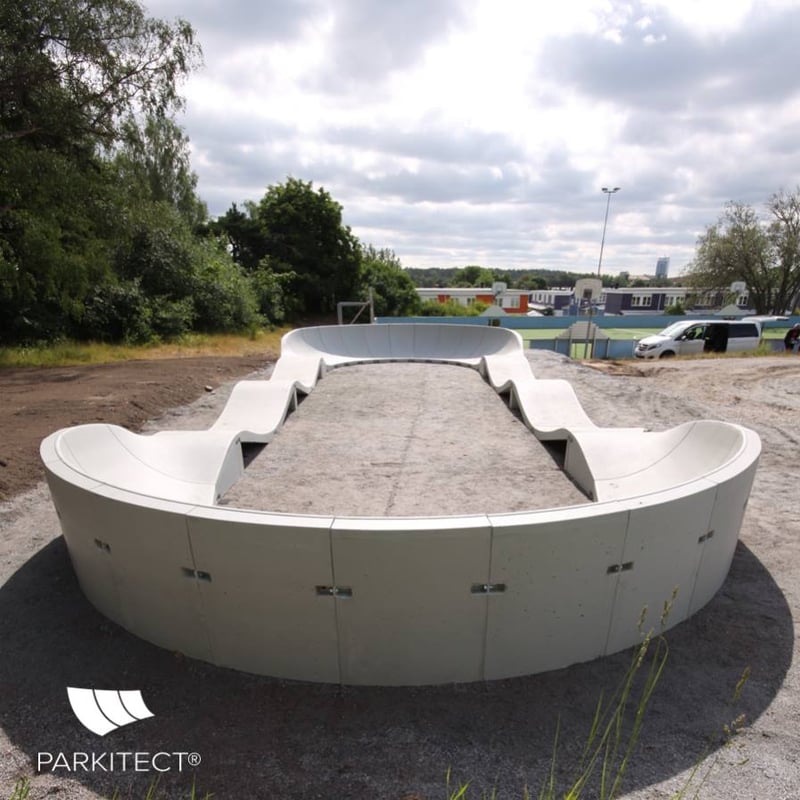 PARKITECT modular pumptrack made of precast concrete in Sweden.
A step-up in material quality, concrete is also used to create pumptracks. Building a pumptrack with concrete requires more planning and investment, but less maintenance. PARKITECT sells modular pumptracks in precast concrete that can be built into the surrounding environment or installed above-ground.
---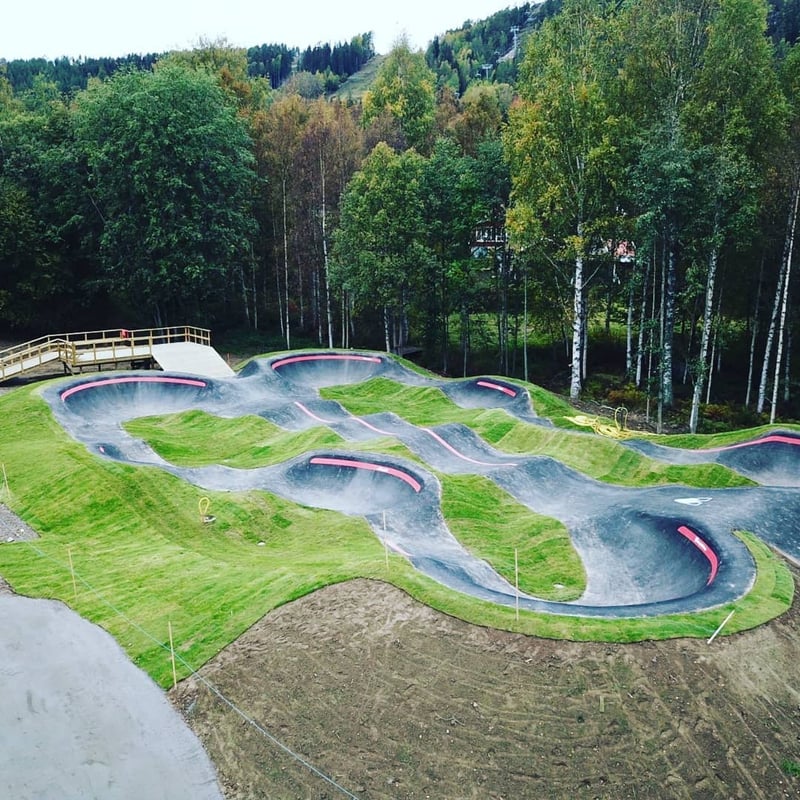 An asphalt pumptrack built into the surrounding landscape. Photo credit and pumptrack installation, Velosolutions.
Asphalt is a common material used for building a pumptrack that is incorporated into the landscape. A highly durable and low-maintenance option, the final product results in a permanent, dedicated pumptrack. The most common barrier for prospects is the relatively higher cost of the material coupled with planning and approval requirements. Crashes on an asphalt track may also be more abrasive than the other material options.
---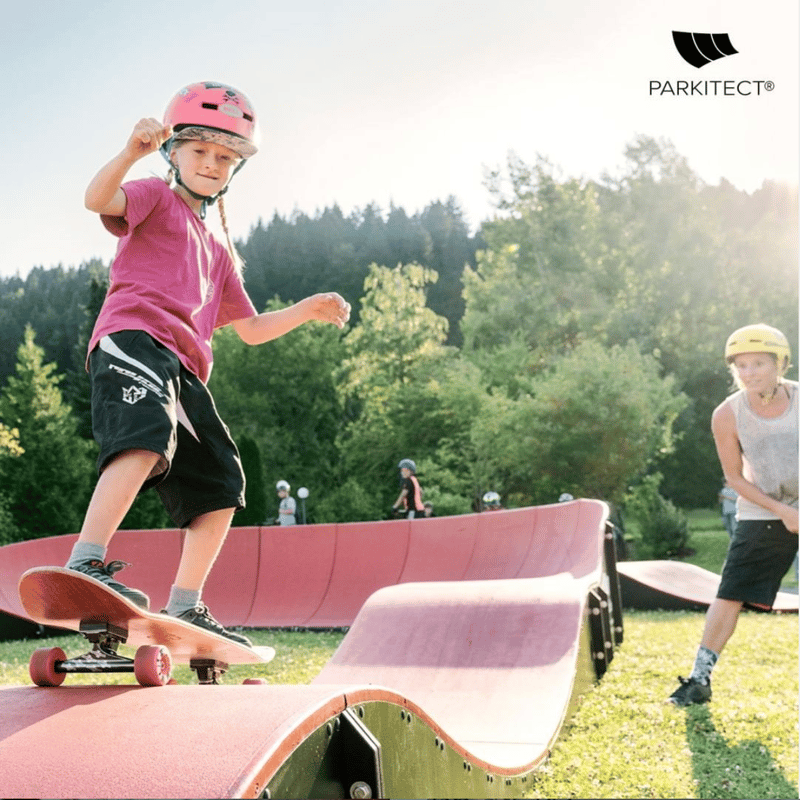 PARKITECT modular pumptrack made of fiberglass composite.
A highly-resilient type of pumptrack material, composite fiberglass offers the best performance when it comes to harsh weather conditions and heavy-use. Fiberglass requires light maintenance after several years, and is the most popular type of modular pumptrack we offer.
Pumptrack material types can be can combined into hybrid facilities that cater to the different preferences of all of the various user groups, like this: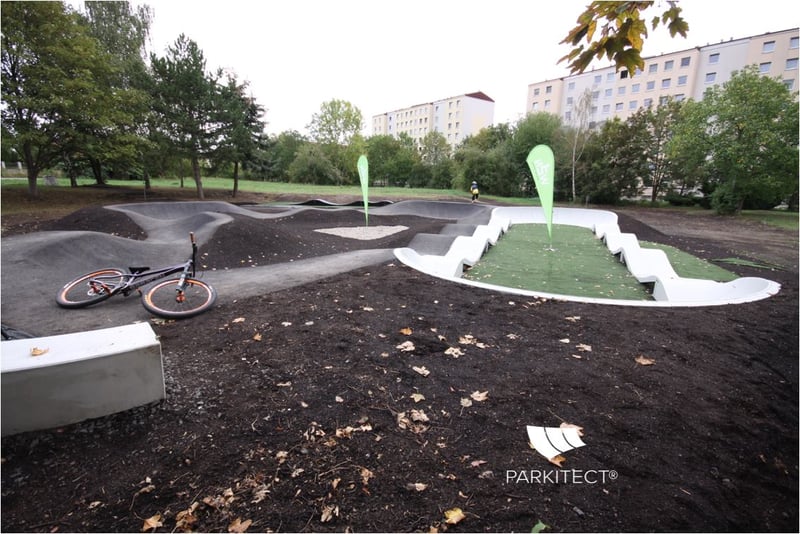 PARKITECT modular pumptrack made of precast concrete, combined with asphalt, and fiberglass pumptracks in one location.
incorporated into the landscape,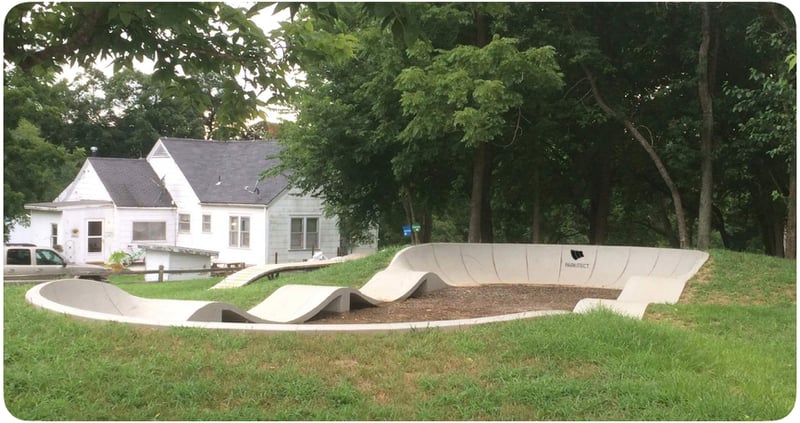 PARKITECT modular pumptrack made of precast concrete, incorporated in the landscape.
or installed as permanent above ground structures,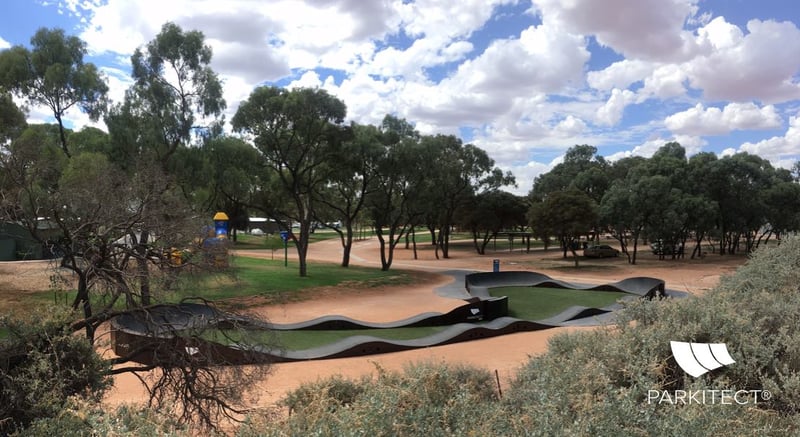 PARKITECT modular pumptrack made of composite material, installed above ground.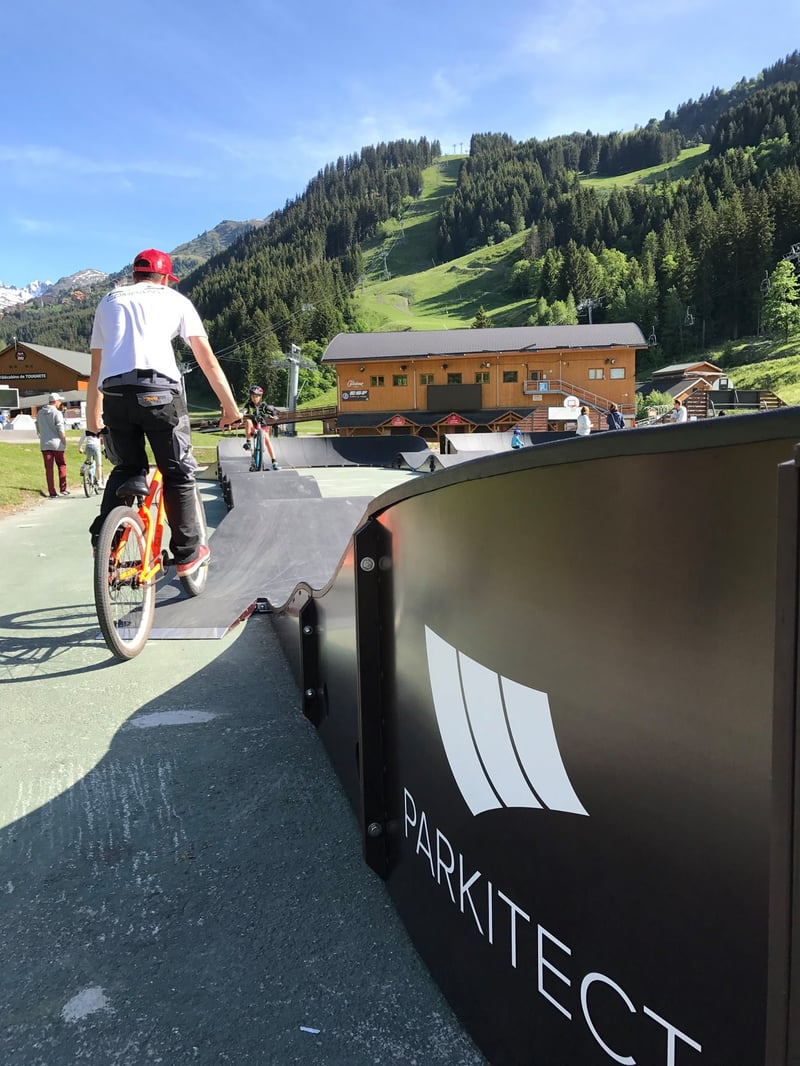 PARKITECT modular pumptrack made of composite material, installed above ground.
or setup as temporary exhibitions.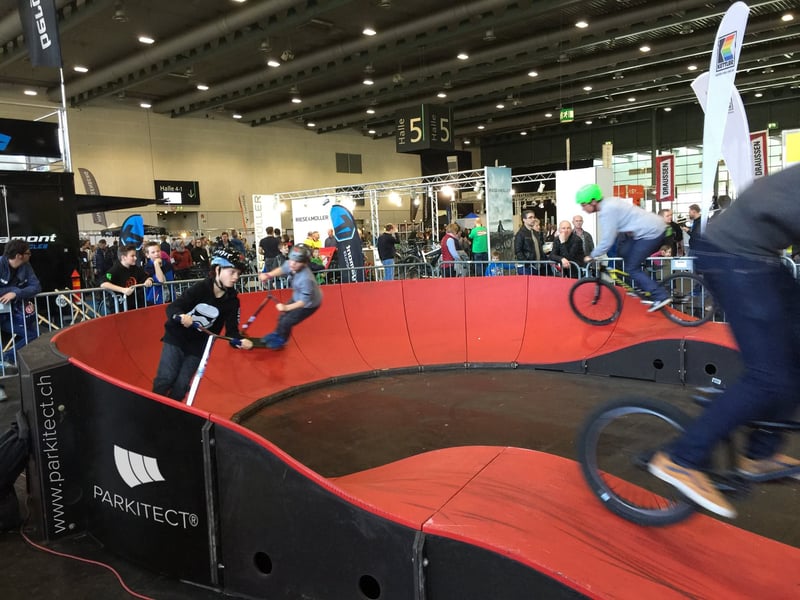 PARKITECT modular pumptrack made of composite material featured at an outdoor show in Bremen, Germany.
Types of wheeled equipment that are used on a pumptrack.
We're often asked what types of equipment can be ridden on a pumptrack. We've heard about kids just running around it for fun with no equipment at all, but you'll find a quick and easy reference guide below listing the most common items used on a pumptrack, as well as items that shouldn't go on a pumptrack.
Yes

✅

No

❌

Bicycles (All Types: Mountain, Strider, BMX, etc.) ✅

Strollers ❌

Scooters ✅

Tricycles ❌

Skateboards ✅

Carts ❌

Roller Blades ✅

Wagons ❌

Longboards ✅

Bikes with training wheels ❌
Everyone! Pumptracks are trending public sports facilities because they serve "all ages, all abilities" with impressive benefits. Riding a pumptrack is intuitive with most users getting the hang of it after a few laps. This is true for users that are 2 or 82 years old. The design builds important bike-handling and mountain biking skills and keeps children off busy roads, and these are just the first of many reasons the ROI of a pumptrack is positive for its patrons and communities.
"Pumptracks are the basics to a lot of action sports. Kids learn how to handle their bikes, skateboards and scooters without a big risk of hurting themselves. Modular pumptracks are a lot more accessible than traditional skateparks, meaning many more kids will get involved in sports. In my opinion, pumptracks should be as naturally found in every town as a soccer field."

Joost Wichman, 2013 UCI 4x World Champion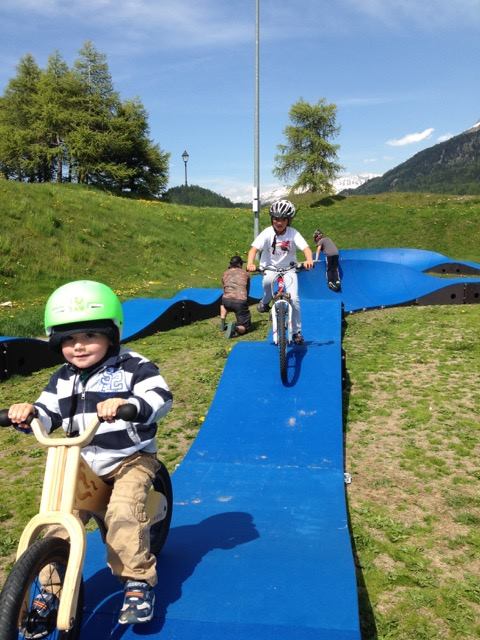 All ages, all abilities. A toddler rides a PARKITECT modular pumptrack.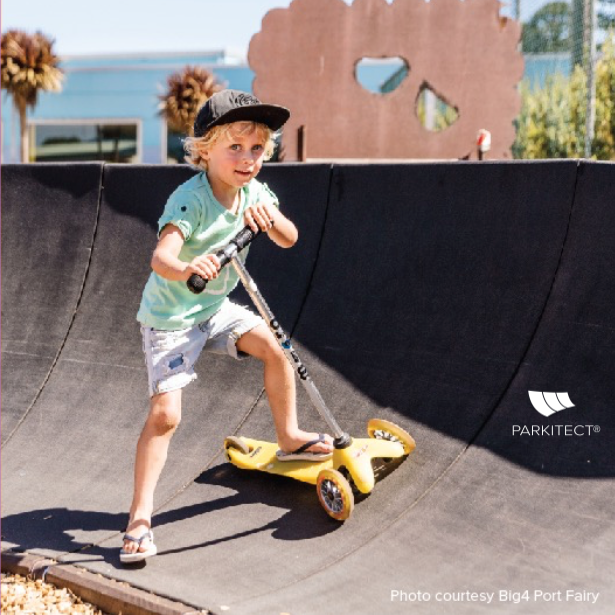 All ages, all abilities. Boy rides a PARKITECT modular pumptrack at Big4 Port Fairy in Victoria, Australia.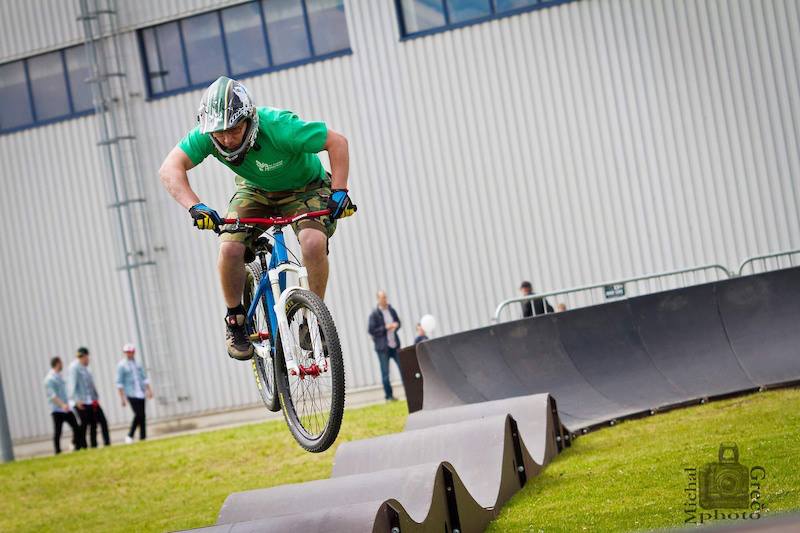 All ages, all abilities. Pro-rider male rides a PARKITECT modular pumptrack.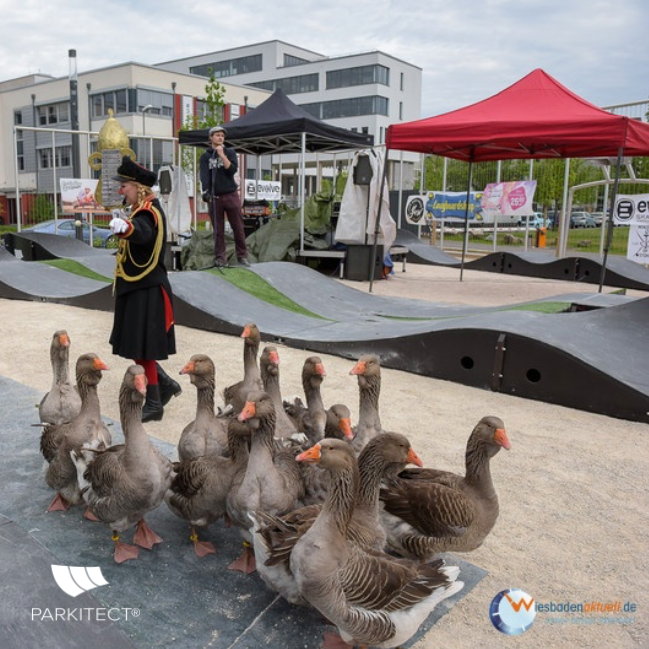 All ages, all abilities. Ducks ride a PARKITECT modular pumptrack.
A pumptrack is many things, but most importantly, it is fun.
A loop, rollers, berms, bikes, scooters, skateboards, roller blades, dirt, concrete, asphalt, fiberglass, old, young. A pumptrack is many things, but people love them because they are fun. So our advice is to go out and ride one now, because the best way to truly understand something is by experiencing it. #rideon. #allagesallabilities
What is a pumptrack to you? We want to know. Tell us in the comments below! 👇