The Story Behind the PARKITECT Modular Pumptrack
(Note: This is part two of our founder's series. Part one can be found here).
The journey to becoming PARKITECT has been both fun and exciting, not dissimilar to our pumptracks. Today, we are manufacturers of premium Modular Pumptracks, specialists in inclusive fun for all. Our strong track record of producing high-quality products is a direct consequence of years of testing, iteration and innovation. This deep history refined our processes, perfected our designs and made thousands of happy riders and customers. These experiences make us who we are today and so we're sharing our story through this founder's series of blog posts.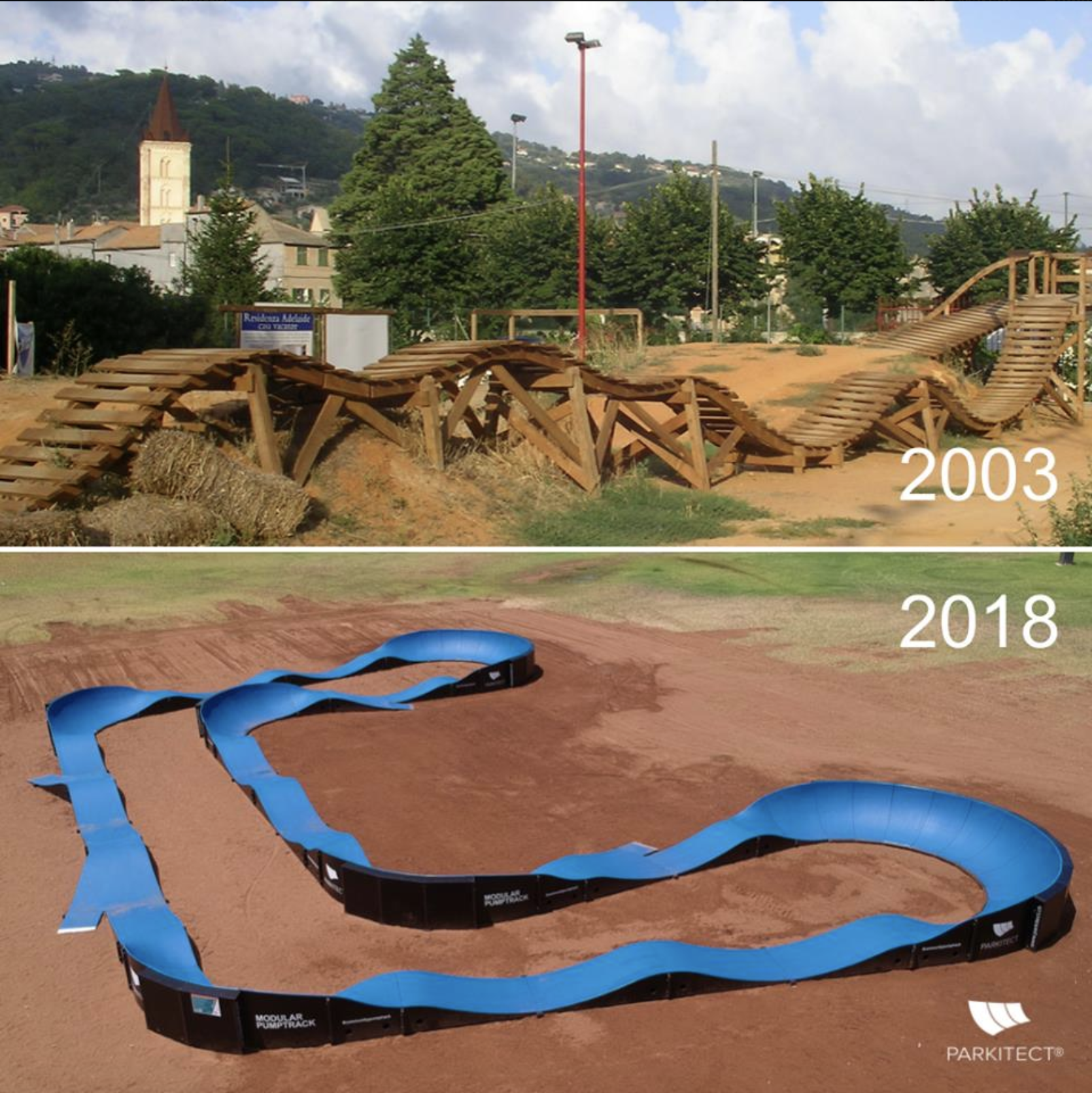 Top: Wooden pumptrack from Finale Ligure bike park. Bottom: an example of PARKITECT'S modular pumptrack.
A passion for design and the first pumptrack.
As a talented young cyclist and professional performing with the "Flow Show", founder Erik Burgon both hit and built bike trails. Following high school graduation, his aspirations to start a business like PARKITECT were first realized in an email to his father saying:
"Building is great, but I am more and more interested in the design part than the building itself. I would prefer to sell the design, like a bike park architect, and then supervise the construction."
Erik capitalized on his dreams when he launched Erik the Bike Parkitect, and built his first bikepark in Finale Ligure. For over 10 years, he designed and built bike trails and parks, and as a consultant, worked with the local communities continuing to refine his expertise in design and application. His projects included:
Finale Ligure
Alpi Bike Resort
Cimone Bike Park
Prato Nevoso Bikeland
Bike Resort Valašsko
The Modular business concept emerges.
As he finished projects and communities responded enthusiastically and positively, demand for trails increased, keeping Erik busy but often away from his family. So in 2004, Erik started to conceptualize a business that sold bike tracks in a modular format similar to how IKEA sells furniture. This eureka moment became a guiding light, and from that point forward all tracks were built with this concept in mind. Tracks were entirely designed off-site using a terrain map, and track pieces were pre-fabricated in a warehouse in advance or in a central spot on location.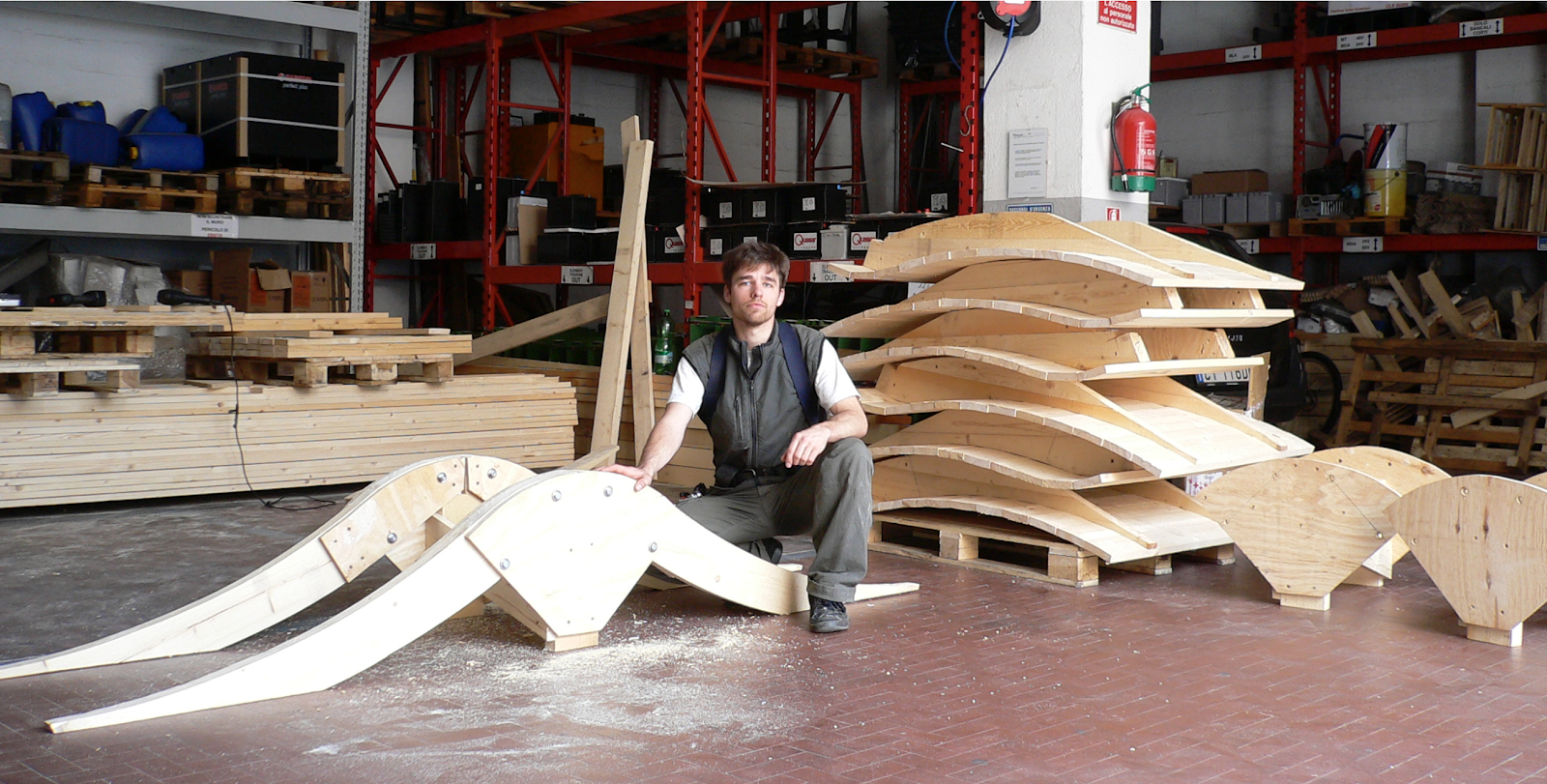 Founder Erik Burgon, pictured with pre-fabricated pieces of track in a warehouse. Genova, Italy, 2008.
Finally, these pieces were either shipped or moved to their final destination, connected and installed in place, with minor cuts and adjustments made as needed.
A partnership is formed.
After completing several bike tracks using this modular process, Erik was able to create a product catalogue, and in 2009 the first fully modular pumptrack was created and sold.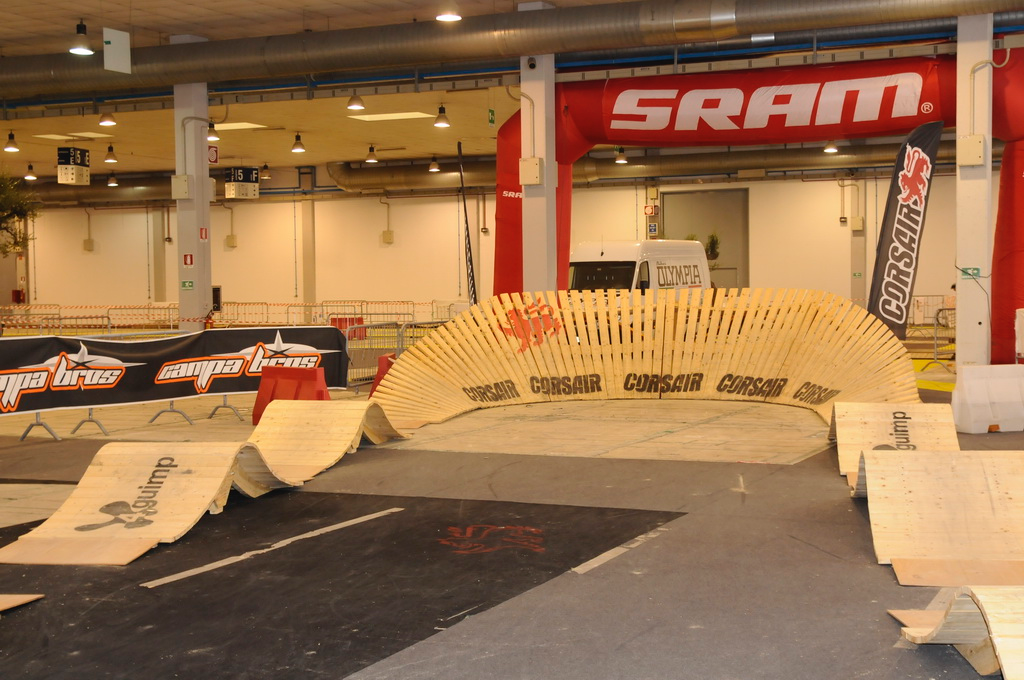 First modular pumptrack.
At the same time, Erik began working with his friend Joseph Grycman to manufacture pre-fabricated pumptrack pieces in the backyard. Joseph owned an engineering firm called OBCE Servis. Eventually, Joseph and Erik established an official partnership and combined their two companies under a new company, Bikeparkitect s.r.o.
Modular Pumptrack material moves from plywood to fiberglass.
Initially, the Modular Pumptrack material was a slip-resistant plywood that was capable of being be ridden while wet. However, the material would still become too slick after a year of wear-and-tear and require maintenance. An obsession with quality and safety led Bikeparkitect to research more effective, durable materials that performed better over time in wet weather conditions. The result is what is still used today: a more flexible fiberglass material that retains its anti-slick properties for many years, and only requires light maintenance to be restored to its original riding condition.
Growing into PARKITECT: An award-winning manufacturer with a global footprint.
By 2013, industry peers wanted to join in Bikeparkitect's fun and success, and the first dealer meeting transpired, with representatives from the US, Switzerland, Italy, Poland, UK, Hungary and the US. Thanks to the growing demand, Bikeparkitect was able to open its first factory in the same year.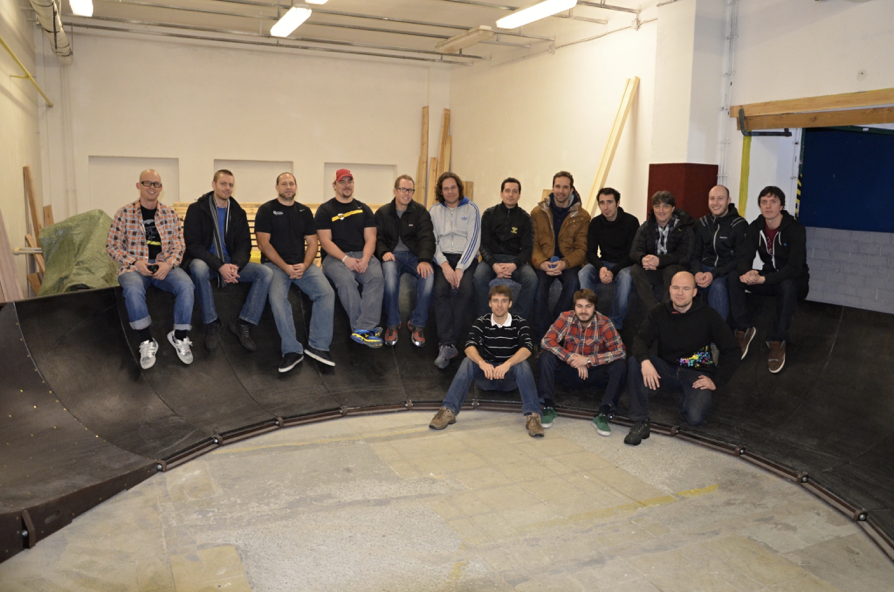 PARKITECT's (Bikeparkitect at the time) first dealer meeting (2013).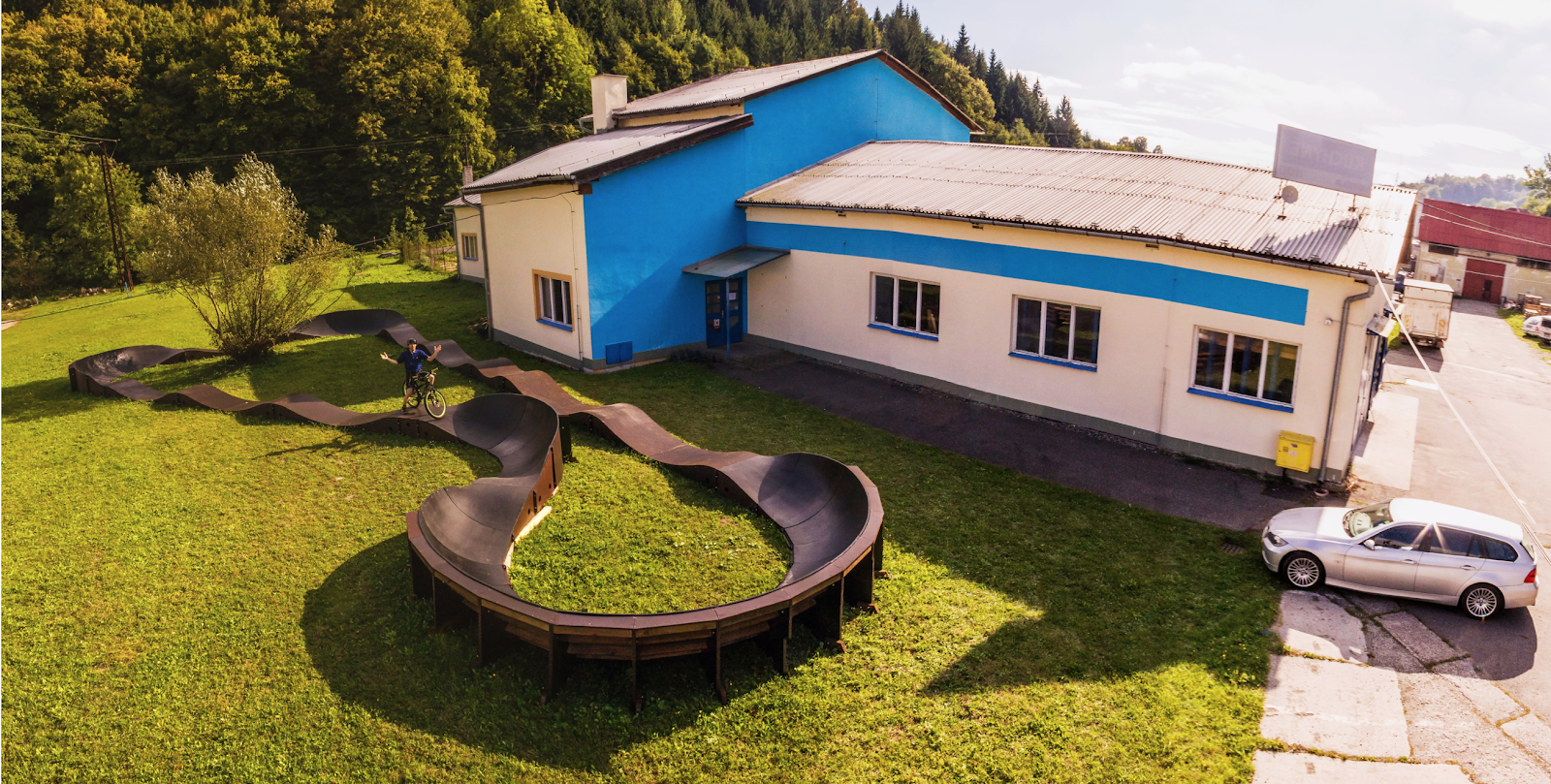 PARKITECT's (Bikeparkitect at the time) first factory. Vsetin, Czech, 2013.
Showered with Awards
The hard work paid off and over the years the company won awards for business concept, product design, quality and innovation from: EUROBIKE, BUDMA and ISPO, among other leaders in the sports and recreational industries. In 2015, Bikeparkitect officially became who we are today, PARKITECT AG, and we've only continued growing:
Sales network of Dealers in over 40 different countries (for more details, see below)
Over 50 employees
Well over 400 Modular Pumptrack installations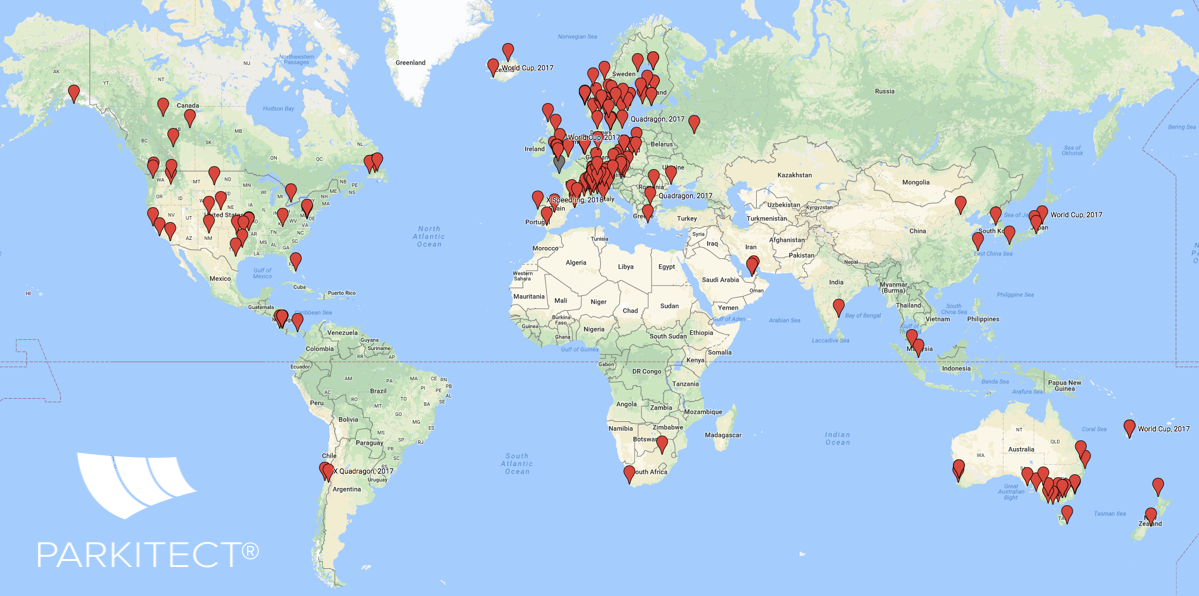 PARKITECT has installed over 400 modular pumptracks around the globe.
In 2018, PARKITECT opened a new factory to serve growing demand. We continue to make and deliver Modular Pumptracks to rave reviews and a stream of order requests. We have installed pumptracks in all of these countries through our Professional Dealer Network:
Canada
USA
Mexico
Panama
Costa Rica
Chile
Greenland
Iceland
Ireland
Scotland
Denmark
Norway
Sweden
Finland
Latvia

Portugal
Spain
France
Italy
Slovenia
Switzerland
Netherlands
Belgium
Czech
Slovakia
Austria
Greece
Romania
Bulgaria
Turkey

Poland
Hungary
Ukraine
Russia
Egypt
UAE
India
China
Japan
South Korea
Singapore
Malaysia
Australia
South Africa
New Zealand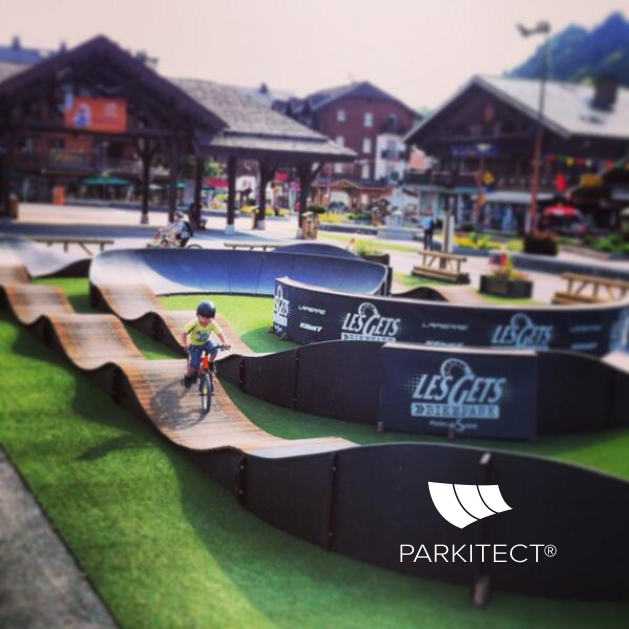 PARKITECT's modular pumptrack at the French alpine resort Les Gets.
So, this is the "long-story-short" behind PARKITECT AG.
Our company's story is a classic tale of humble beginnings, hard work, lessons learned, innovation, persistence, a little bit of luck and consequent success. We're a proud result of bootstrapping and grassrooting; a love of sport, adventure and inclusive design are what gets us out of bed in the morning. We are thrill-seekers and thrill-providers. We've been in the pumptrack business for over 15 years and we love it. Selling Modular Pumptracks gives us the opportunity to build healthy communities, help people explore wheeled recreation and encourage physical fitness, and we wouldn't have it any other way.
Now that we've shared our story, what's yours? Whether you're building an inclusive adventure park, searching for innovative play options or exploring some other exciting new concept, we want to hear from you. We'd be honored to be a part of your story, and create more joy in your community.