Find your inner child. Step on the track. Ride.
Do you remember the feeling you get in your gut during a big drop on a roller coaster?
That weightless feeling that evokes childhood memories of being thrown into the air and caught by daddy over and over again or being swung in circles by a beloved uncle (while mom looked on and anxiously insisted, "Please be CAREFUL!")
We believe that feeling is the perfect physical manifestation of "fun."
This is the feeling that drove our founder Erik Burgon to eventually design the PARKITECT Modular Pumptrack. He wanted to create moments of weightlessness and pure joy, making childlike bliss easily accessible to riders of wheeled sports equipment, regardless of age or skill level.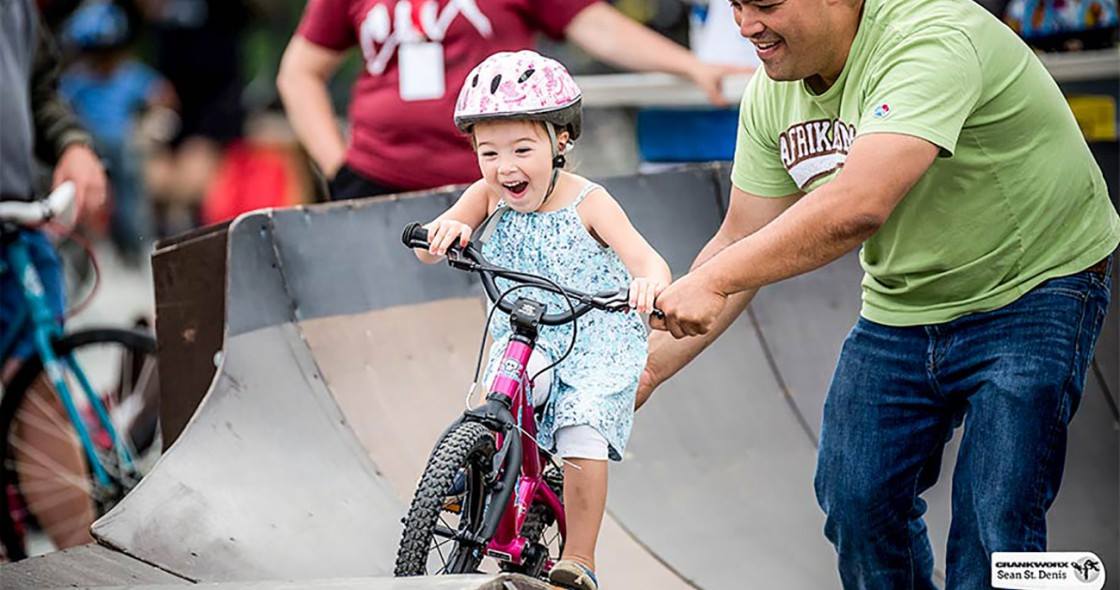 Child riding a PARKITECT pumptrack in Whistler, BC, Canada.
A teenager from Vancouver B.C. loved the thrill of riding.
So where did he discover this feeling? In the late 90s, Erik was a teenager living in the North Shore area of Vancouver, B.C., Canada, riding and racing bikes with impressive skill. He joined a team of pro-riders led by a man named "Dangerous Dan," building extreme modular structures to ride and perform in a bike show called "The Flow Show."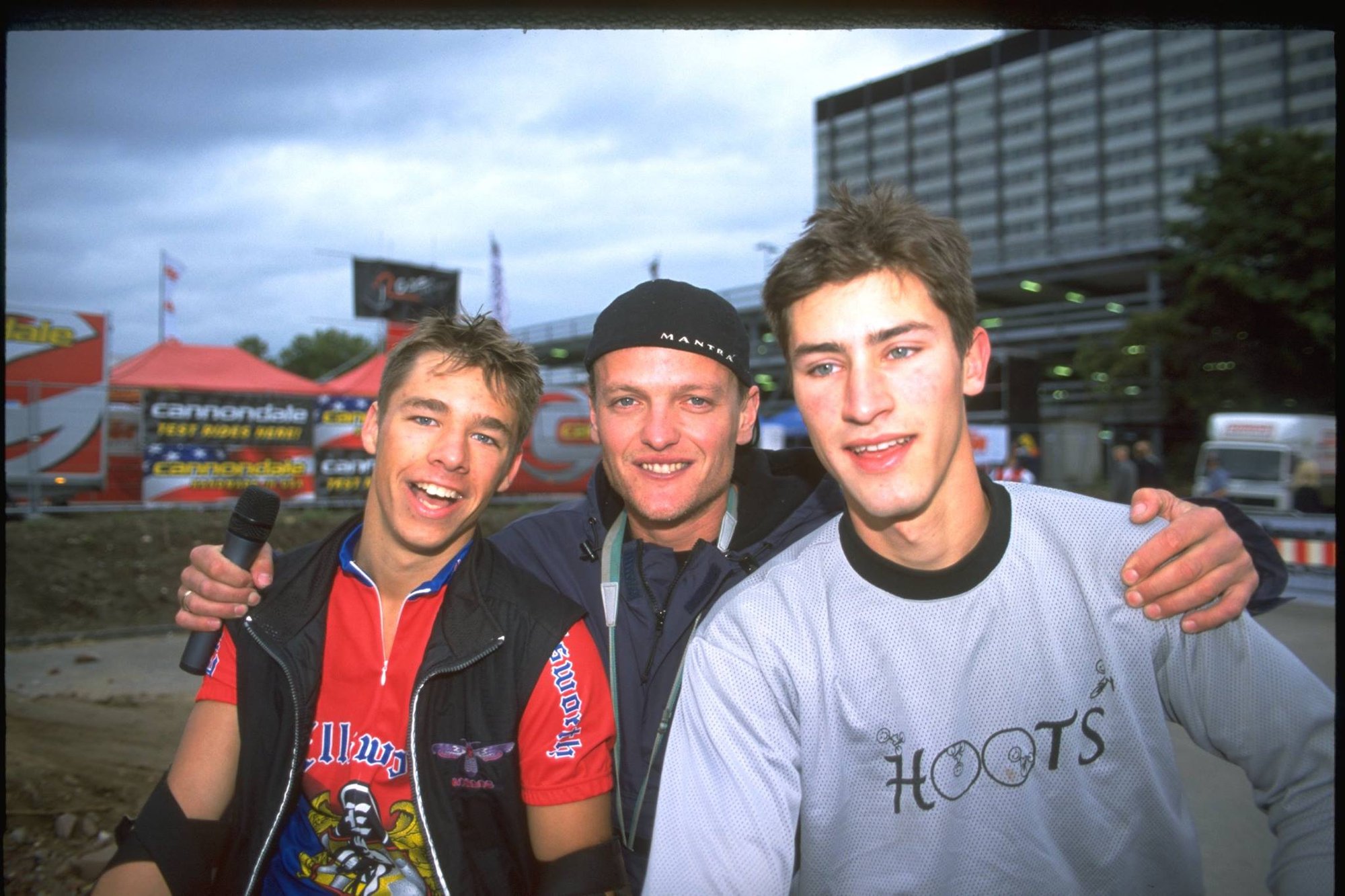 PARKITECT founder Erik Burgon, pictured far left, in his teenage pro-riding years in Koln (Cologne), Germany, 2001.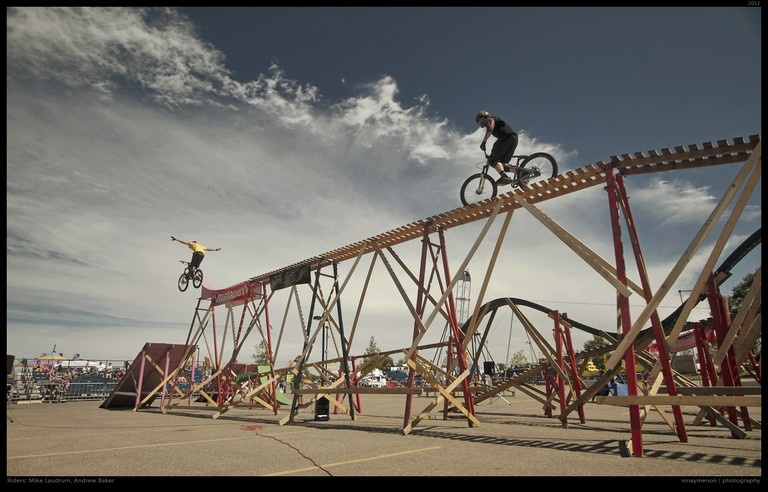 The ramps and riders of the "The Flow Show" in all their glory.
Serious bike skills led to incredible travel and job opportunities.
Erik traveled far and wide with the Flow Show to do what he loved best: ride bikes. They toured all over the United States, throughout parts of Canada and Europe. The experiences had a big impact on young Erik, inspiring him to choose his career path very early on.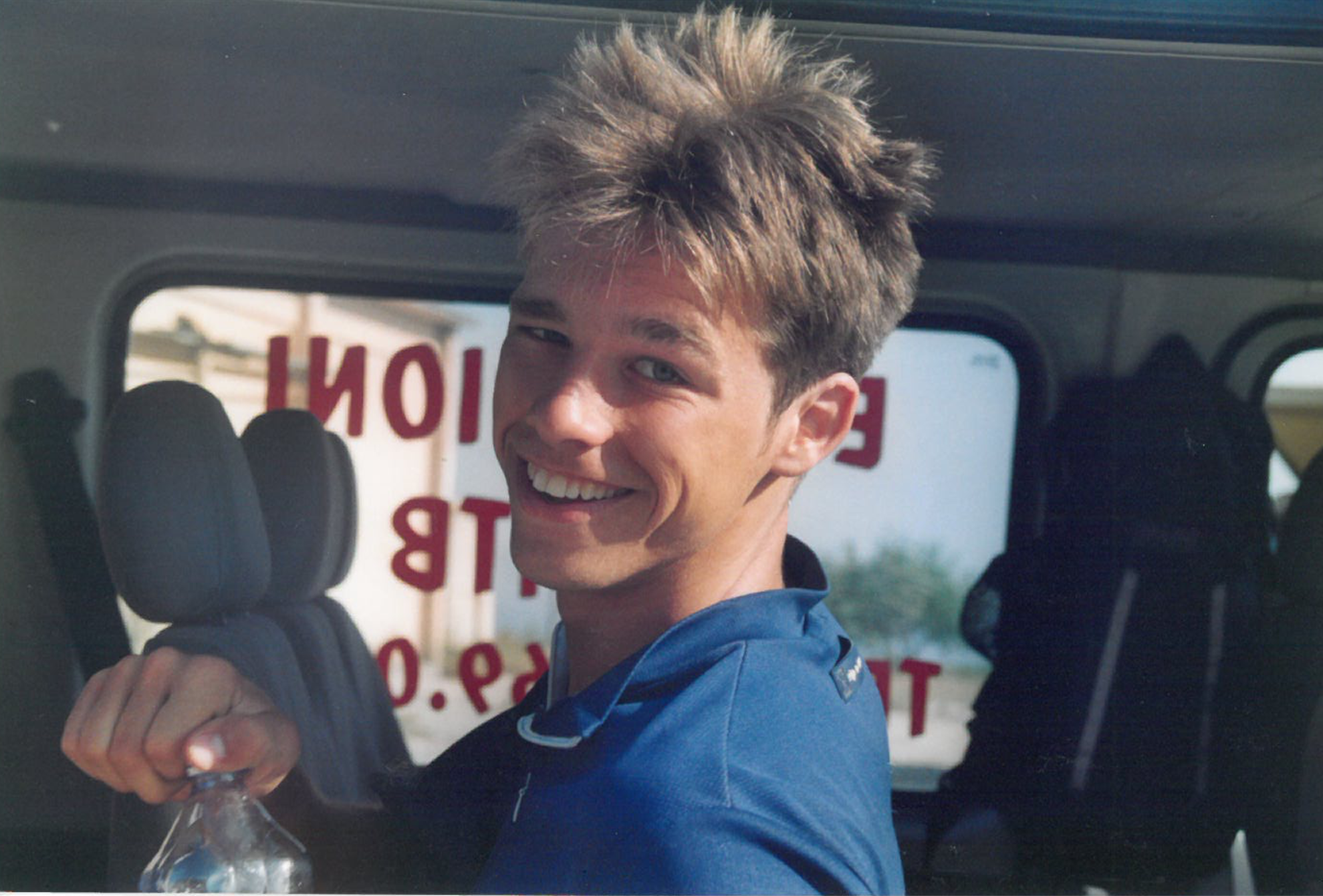 Founder Erik Burgon, happily touring and traveling the world as a pro-riding teenager.
The performance that started it all.
In October 2002, the Flow Show was invited to perform at a bike event in Finale Ligure, Italy, a picturesque city located on the Italian Riviera.
Erik recalls of the event, "The show itself impressed everyone, but the organizers were even more impressed by how we turned a pile of lumber into a 'Flow Show' in just a couple of days."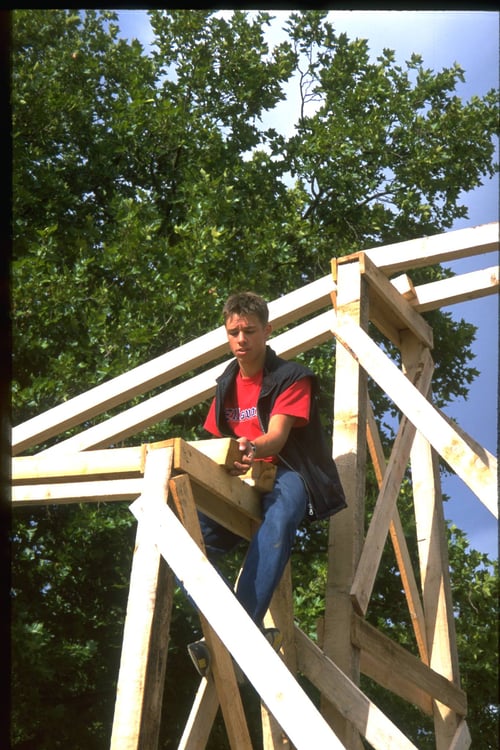 Erik, building "the Flow Show" structure.
Erik Burgon "Stack" and "Dangerous" Dan Cowan ride "the Flow Show" in Finale Ligure, Italy.
"Would you be willing to build a Bike Park in Italy?"
One week after returning home from Italy, Erik received an unforgettable phone call. One of the directors from the event in Finale Ligure wanted him to return and build a permanent bikepark. This was a dream opportunity for Erik, and he quickly accepted the challenge.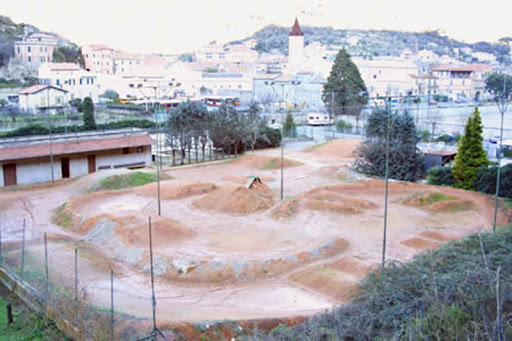 Original Finale Ligure Bikepark.
"They had a goal of attracting tourists and growing their town into a bike mecca, They gave me 90 days to turn an old BMX track into an awesome recreational attraction that didn't exist anywhere else in Europe." -Erik Burgon, founder
Erik immediately began working on the design and within a few weeks had the concept and the budget approved. Designated the "Flydown Park," it became Europe's first bikepark inspired by the "North Shore Style" tracks of Erik's youth.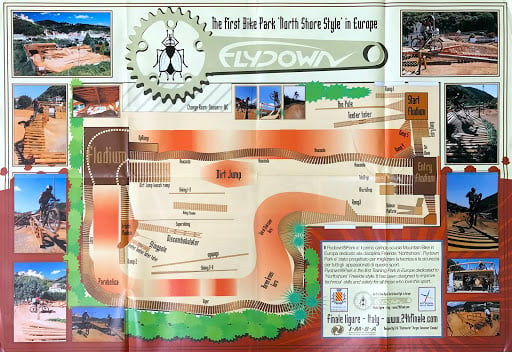 Brochure for the Flydown Park, the first North Shore Style bikepark in Europe.
Believing this would be a temporary break from his studies, he packed his bag and set out to build his first bikepark.
Things went well. So well in fact that prior to completing construction of the original design, plans for "Phase 2" emerged. That included expanding and operating the bikepark, improving the local trail network and hosting "Italian Bike Adventures" for foreign tourists.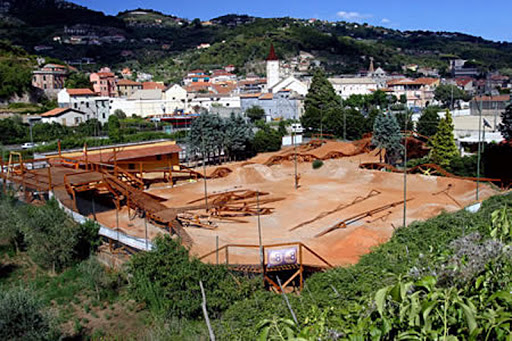 Completed Finale Ligure Flydown Park, 2003.
The great success of the Finale Ligure project soon led to new opportunities and more bike track and trail projects.
PARKITECT AG: Organic fun from organic origins.
So it is that a teenager's adventurous pro-riding career, a work opportunity and subsequent successful projects led to what is now PARKITECT AG.
"We went through many branding changes since our start in 2002; initially as 'Erik the Bike Park Architect,' shortened to 'Bikeparkitect,' which eventually became Bikeparkitect s.r.o. All of this occurred before we developed the Modular Pumptrack and became PARKITECT AG."
We're proudly in the business of delivering pure joy. Helping people of all ages, all over the world to find their inner child through riding.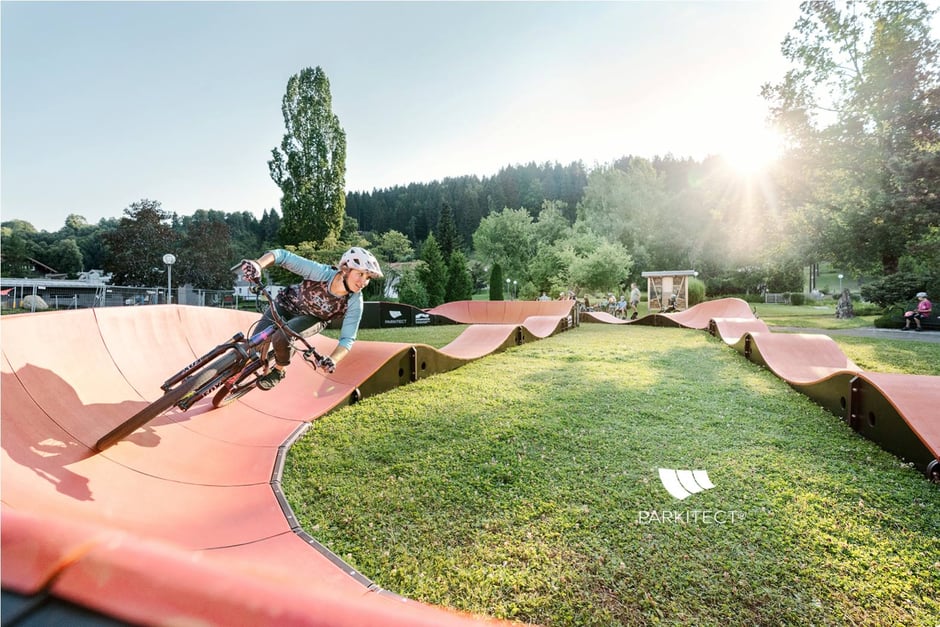 Today: PARKITECT's award-winning Modular Pumptrack in Munich, Germany. All wheels, all ages.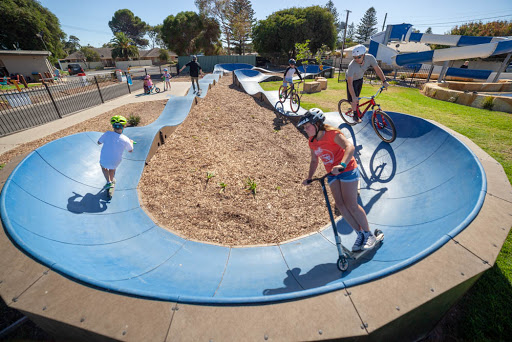 Today: A PARKITECT Modular Pumptrack in Victor Harbor, Australia.
(Continue on to part two of PARKITECT'S history here.)