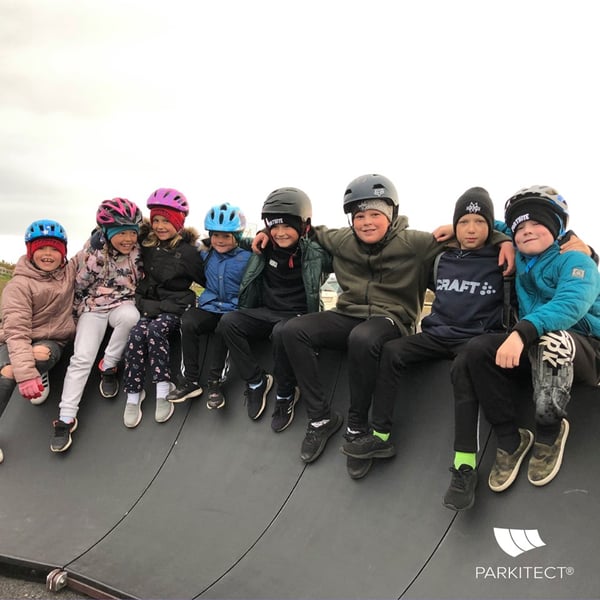 School is in session and it's time to ride!
We frequently say this about pumptracks: "pumptracks make more riders," and schools across the globe seem to have noticed and agree. These schools are putting pumptracks right on their school grounds to help kids build healthier bodies and minds and to inject creativity into the curriculum. Pumptracks are used for recess and physical education, and even incorporated into regular classes such as science and art. Kids love it, and teachers and administrators are seeing more benefits than imaginable.
Yes, students are becoming more active and fit, but bike programs are revealing unexpected advantages too, such as increasing social interaction and engaging uninvolved kids at school. These three innovative bike programs in the UK, New Zealand, and the US are getting kids excited about riding, hanging out with friends at the pumptrack, and yes–even about school.
---
Why Bikes in Schools (and Pumptracks in School) Make for the Best School Day Ever!
Dirt Factory, a company in Manchester, UK, has a mission to spread positive vibes and the benefits of cycling by touring their mobile pumptracks around to schools.
For some end-of-year fun, Dirt Factory set up a pumptrack at the Bollington Cross Primary School playground. Over two days, lots of eager children enjoyed fun games, learned bike safety, and ultimately got in some laps around the track. All the kids had the opportunity to ride the track–whether they were on pedal bikes, balance bikes, or scooters. Members of the Dirt Factory team supported the kids, encouraging them and teaching them how to ride the pumptrack.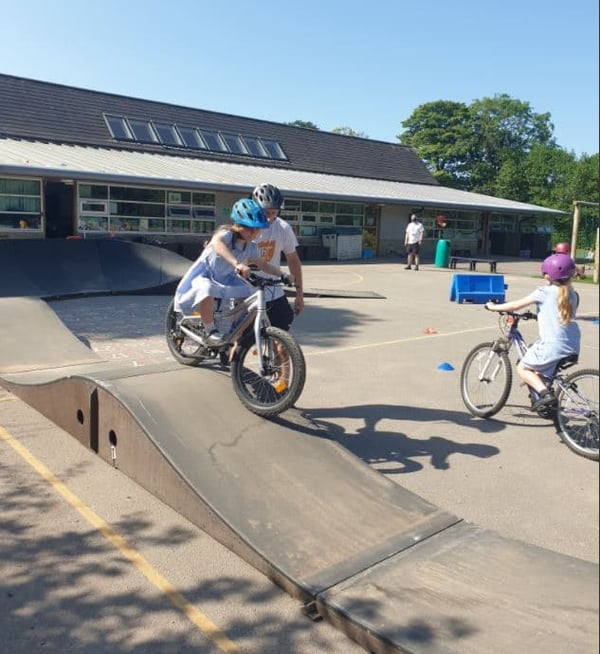 A young student rides a bike on a modular pumptrack at her primary school. These "school sessions," rented by Dirt Factory in the U.K., are a big hit. Read all about it here. Credit: Dirt Factory
The school's headteacher, Mr. Donvaband, was enthusiastic about how much everyone enjoyed the pumptrack.
"We hired part of a pumptrack from Dirt Factory for the last two days of the summer term to give all pupils a real treat. I didn't realize the impact the track would have on pupils and also how much positive feedback it would receive from parents! Dan and Mike coached pupils from reception through to Year 6 over the two days. The children had a range of experience, skills and abilities, with some on scooters, some on balance bikes, and some on bicycles.

"The progress the pupils made over the course of each session was incredible! They went from wobbling around the track, in some cases, to smoothly completing it many times over. The main gains the pupils made were in their confidence, agility, balance and happiness, as they felt the adrenaline of being on a biking track in their own playground. I'd love to have the track back again (as I had loads of sneaky goes myself!) and I know the pupils would too!"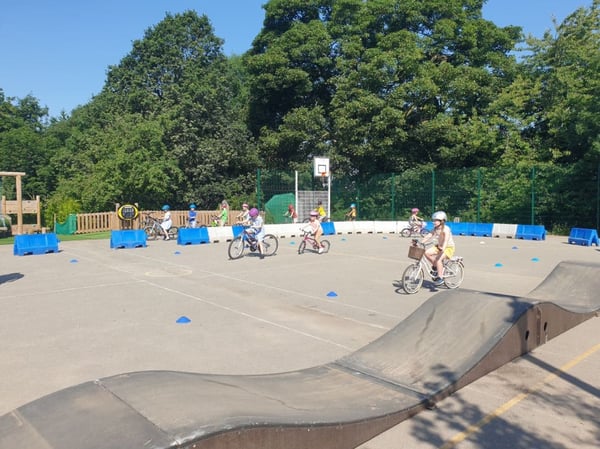 Children ride a pumptrack at a primary school in the UK.
Credit: Dirt Factory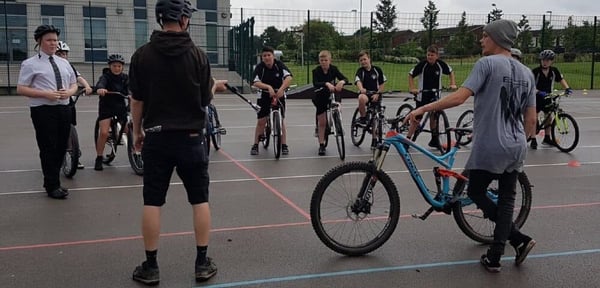 School cycle sessions: a collaborative effort between the Salford Council, the Greater Manchester Police and Dirt Factory. Read
all about it here
. Credit: Dirt Factory
Pumptracks are just as popular with older students (and their teachers). High school students in Salford took part in school cycle sessions, learning pumptrack skills and bicycle maintenance from the Dirt Factory staff. The project aims to promote active lifestyles, and the track successfully captivated students of all fitness levels.
"Pupils from all year groups took part and enjoyed the morning using the tracks set up by Dirt Factory. Pupil's bikes were inspected and a number had low tyre pressure–all problems were fixed. Session was a great success," said Mr. Cheshire, St. Barlows Assistant Head of Sixth Form.
For the Salford high school sessions, Dirt Factory teamed up with the local police, teaching the students how to prevent bike crime and handing out free locks. Each student's bike was added to the police bike register.
The Dirt Factory team has noticed that riding the pumptrack is a healthy addiction. Once the kids start, they don't want to stop, and they protest when it's time to pack up the pumptrack. Happily, more pumptrack courses are coming to the Manchester area, and groups can rent a pumptrack anytime.
---
Reading, Writing, and Pumptrack Riding
New Zealand has launched a highly successful, nationwide Bikes in Schools program, providing bikes, helmets, and tracks for students, and supporting learning and growth through riding. The program recommends that for maximum benefit, schools have three kinds of tracks located on school property: a pumptrack, a skills track, and a riding track.
The pumptrack is usually the most popular with children, as for many, it is the most fun of the three tracks. (And kids probably don't even realize how much the pumptrack helps them develop fitness, agility, and balance!) All students receive bike skills and safety training at school, and are given plenty of time to enjoy riding.
As early as preschool, kids are jumping on bikes and taking to the track. Parents, teachers, and kids have maintained a high level of engagement in the project and noticed a variety of positive impacts. Feedback from principals, teachers, parents, cycle skills providers, and students shows that the program:
Raises the confidence, self-esteem, and resilience of pupils through a fun activity.
Delivers health and wellbeing outcomes for the pupils (and staff) through improved physical fitness, motor skills, and coordination.
Provides an opportunity to self-manage risks within a safe environment.
Instills the habit of using a bike for basic transportation.
Results in the children and extended family biking more often.
Helps pupils gain knowledge, skills, and confidence to ride safely for when they might ride outside of school.
Sarah Walker, world champion BMX rider and Olympic medallist from Kawerau, describes how riding her bike at school motivated her to do better in her academics:
"When I started riding at school it ended up crossing over towards my school work. Because I was getting better at BMX, I started getting better at school because it just gave me a lot of confidence so I was happier and got better at everything really."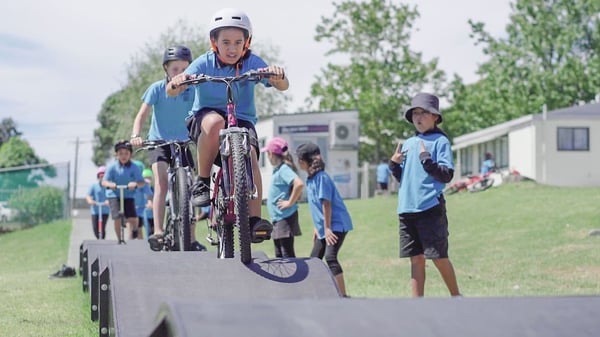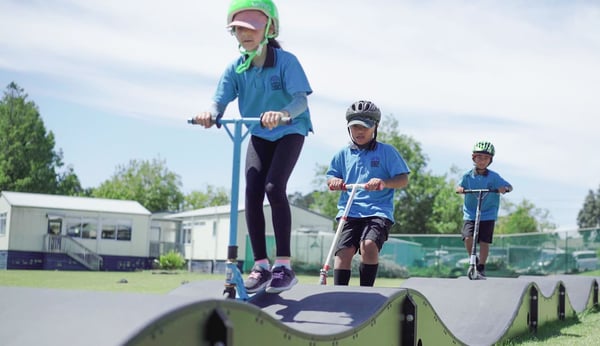 One popular way of introducing and riding bikes at schools is through pumptrack rental, shared amongst a select group of schools, such as this track located in West Auckland. Full story here and credit: Parklife
Parklife, a New Zealand company that develops active community spaces, sells pumptracks to schools as a part of the Bikes in Schools program. They have installed modular pumptracks at several schools around the country. These portable pumptracks can be easily set up and taken down so that they can be shared between schools, giving more children across the community a chance to benefit from the track. In West Auckland, a pumptrack is shared between Don Buck Primary School and three other schools.
Parent and board of trustees member Olga Mills has noticed that the pumptrack attracts children to school. "It's been really interesting seeing the track's value in engaging kids who may not really be that keen to be at school. If they like coming to ride on the track, then the whole school experience is more positive, and that has to be a good thing."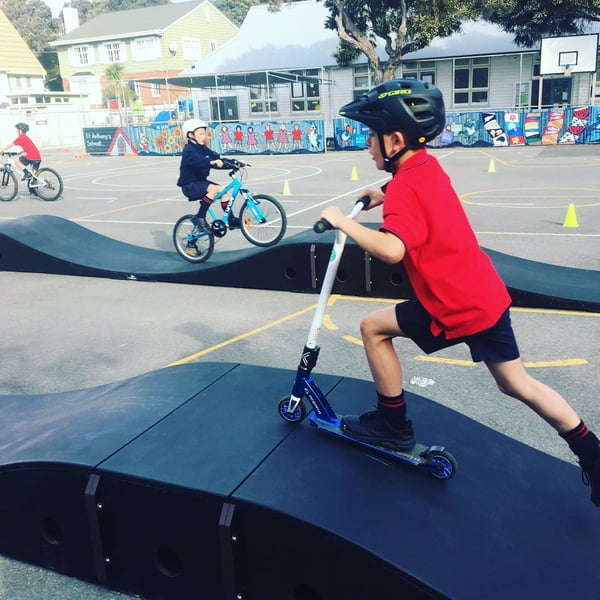 A youngster rides a scooter the demonstration pumptrack on the playground at school in Aotearoa New Zealand. Full story here (Credit Rebicycle)
ReBicycle, a Wellington cycling trust, is rotating a pumptrack around North Shore schools, providing a valuable shared resource to students in the area. Not only has the track enticed active kids to bike, scooter, and skateboard, the new and unique activity has engaged kids that are not typically active, reconnected kids with school, and increased the activity levels and wellbeing of all pupils.
"The track has been so popular. It has also been great to see kids that may not have otherwise been interested in being active, taking to using the track daily," says Heather Bartlett, deputy principal of Northcote Primary School.
Miramar School built all three types of tracks on their school grounds, including an asphalt pumptrack. See the opening day festivities at the Miramar School bike track below:
While some schools have built asphalt or dirt pumptracks, more have opted for modular pumptracks. Modular pumptracks can be small enough to fit in limited spaces, such as a playground, or large enough to fill a huge field. When local pumptrack designers and builders are not available, a prefabricated pumptrack offers a professional design. With rollers and corners in ideal dimensions, they deliver a fun and safe riding experience that helps users ride with confidence and keep their momentum around the track. It's a turnkey product with the magic built-in and known outcome, cost, and delivery.
---
School + Pumptrack = Cool Campus
The pumptrack at Thaden School in Bentonville, AR. Credit: IMBA
<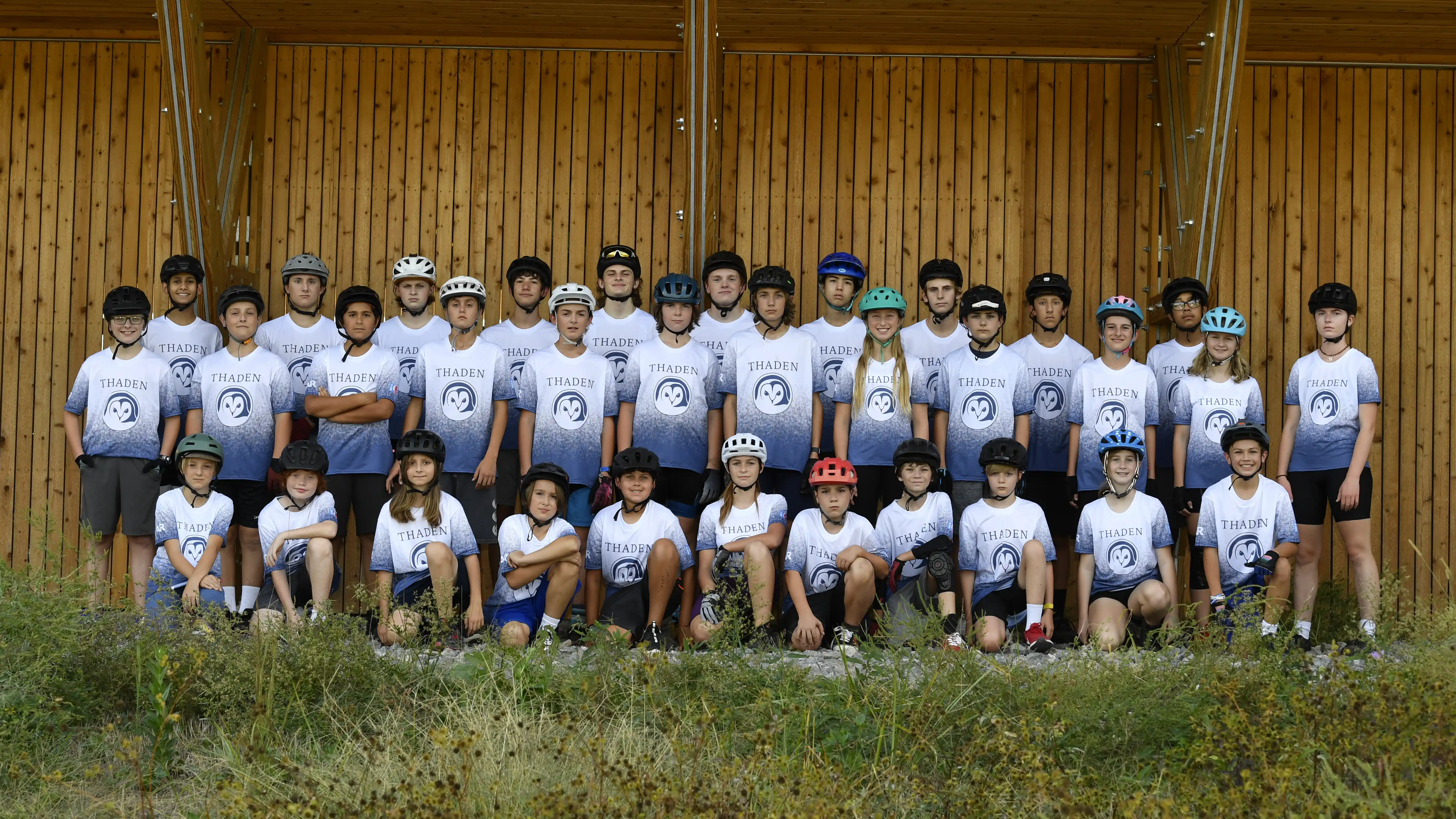 Members of the Thaden School MTB Team. Credit: Thaden School
Thaden School in Bentonville, Arkansas is the first school in North America to have its own asphalt pumptrack on campus. Designed by Velosolutions, the top-of-the-line asphalt track complements a school bike skills track and the area's massive regional trail system and bike culture.
The school, serving grades 6 to 12, has a special interdisciplinary "Wheels" program designed around bikes and riding. The program provides students with hands-on opportunities to explore the design and mechanics of bicycles and their connections to math, physics, history, urban planning, and other fields. Kids also learn bike repair and maintenance skills, helping them to develop problem-solving and self-reliance. And of course, kids get to ride the track during PE and free time, helping them develop fitness skills and have fun.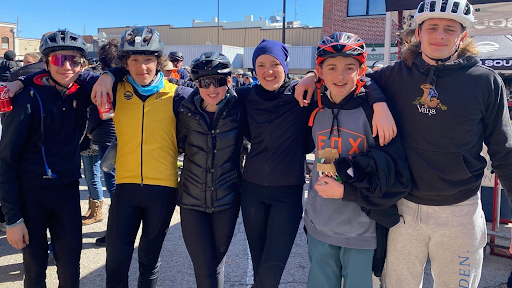 Members of the Thaden gravel cycling club. Credit Thaden athletic
These programs are part of a larger movement to get bikes in schools so that every child knows how to ride and can enjoy the benefits of biking.
Here's a sampling of other school bike programs and their positive impact on kids.
All Kids Bike is a national movement within the US to place Kindergarten Learn-To-Ride Programs into public schools for free, using donations from individuals, businesses, and organizations.
Outride is a nonprofit organization dedicated to harnessing the benefits of cycling for the cognitive, socio-emotional, and physical well-being of youth and to helping cultivate inclusive cycling communities. Since 2014, Outride has partnered with over 225 schools and granted $1M+ to over 100 cycling programs.
Riding for Focus (R4F) is Outride's middle school-based PE program. Developed as a result of their initial research findings, R4F promotes cycling as an outlet for students to improve their cognitive, physical, and socio-emotional well-being.
Safe Routes to School programs aim to make it safer for students to walk and bike to school. They coordinate a Bike to School Day held each May.
NICA, the National Interscholastic Cycling Association, develops interscholastic mountain biking programs for student-athletes across the United States.
---
Beyond Schools: Pumptracks for the Community
Seeing these fun school programs may make you envious of the kids who get to ride pumptracks on campus. (We love seeing all the teachers and administrators who can't resist joining the students out on the track, too.) No fear. Pumptracks can be rented for community events and programming as well.
Dirt Factory not only works with schools in the UK, but also brings their pumptracks to parks, bike festivals, and other community events to provide people of all ages easy access to this one-of-a-kind sports facility. Recently, the crew set up a track in Manchester's Heaton Park for an enrichment program that supports children and their families who receive free school meals. While riders enjoyed the pumptrack, other participants learned how to eat more healthily and connect with school and other local services.
Another galvanizing community event brought bikes and a mobile pumptrack to Stoneleigh Park in Derker, Oldham where over 140 participants, from balance bike riders to over-fifties, got out and enjoyed some laps.
"The sessions were really well attended by the local community, whole families and kids. An extra session was paid by Friends of Stoneleigh Park as it was so very popular. Great to see families and children taking part and socializing with one another."

-Local councilor Angela Cosgrove
In our screen-obsessed and increasingly sedentary culture, we're excited to see so many programs popping up in schools to encourage bike skills, social engagement, and physical activity. Expanding positive biking experiences into the greater locale serves to strengthen the community as a whole. With so many benefits and enthusiastic participants, it might be just the thing for your neighborhood.