We've said it before: we're in the business of delivering joy, and we know that play is critical for #AllAgesAllAbilities. In that spirit, we're taking the time to discuss inspirational trends in playgrounds, featuring fantastic examples of award-winning projects that will dazzle and delight you. This post is a part of a series that will explore innovations in playgrounds, public sports facilities and other recreational spaces.
We kick things off by reviewing four exciting trends.
1. Multigenerational Playgrounds
"Playgrounds are for kids" is the opposite of what landscape architects aim for with multigenerational playgrounds. These play environments allow parents and grandparents to participate in activity with their young ones, and amplifies the fun for everyone.
Beyond family play, features such as gym equipment, chess boards and walking paths provide motivation for adults to get to the park to enjoy these amenities solo or with friends.
Like pumptracks and bike parks, public fitness amenities for adults are a great way to promote activity in the ongoing fight against obesity. And the trend is catching on. The American Association of Retired People (AARP) announced in 2019 that they would build outdoor fitness parks in each of the fifty states, Washington, D.C., Puerto Rico and the U.S. Virgin Islands.
The US National Recreation and Parks Association (NRPA) has called this one of best new trends in playground design, and forward-thinking designers are jumping onboard to reap the positive rewards and diversify their portfolios. If you need some inspiration, here are some of the best designed multi-generational parks in the world.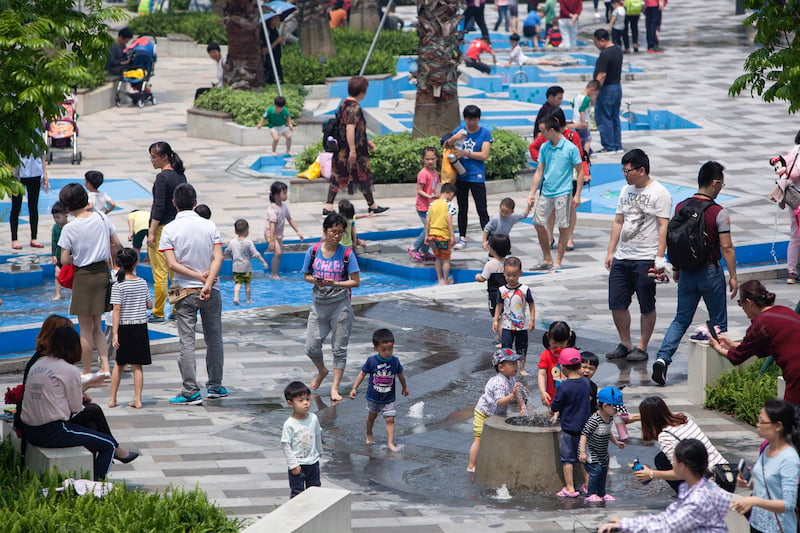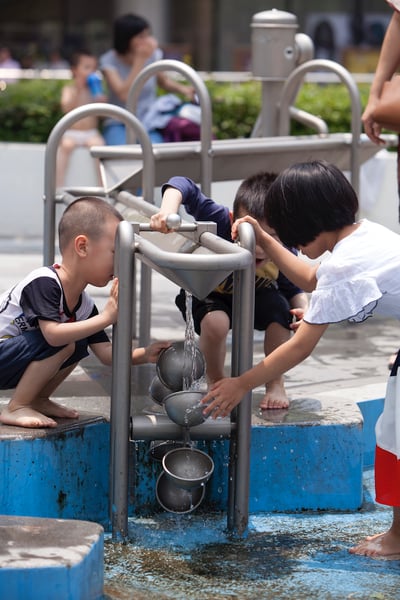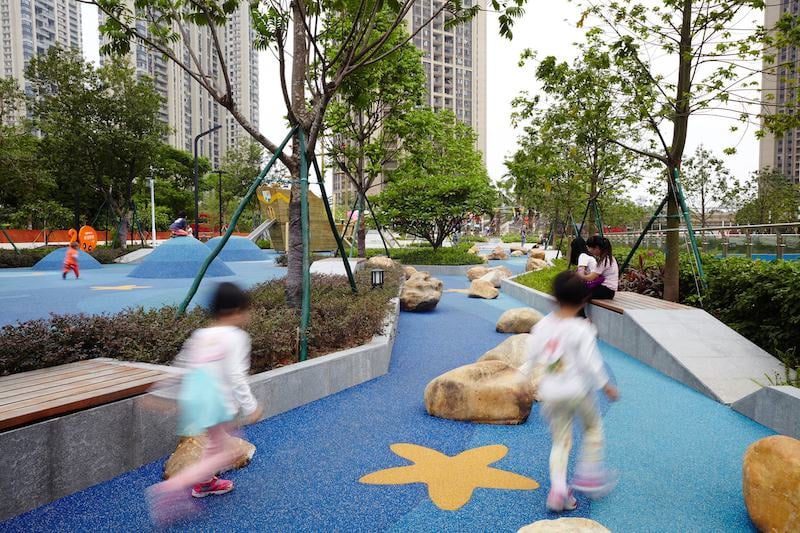 Above:
Multigenerational playgrounds first emerged in China. This is COHL Foshan Uni-mall, a multigenerational playground, in Guangdong province. The central attraction is the free water park, designed to stimulate social interactions between generations and offer a place of respite. The space was designed by Aspect Studios and won two Real Estate Design China Awards.
To learn more about this innovative playspace, click
here
. Photos courtesy
Aspect Studios
.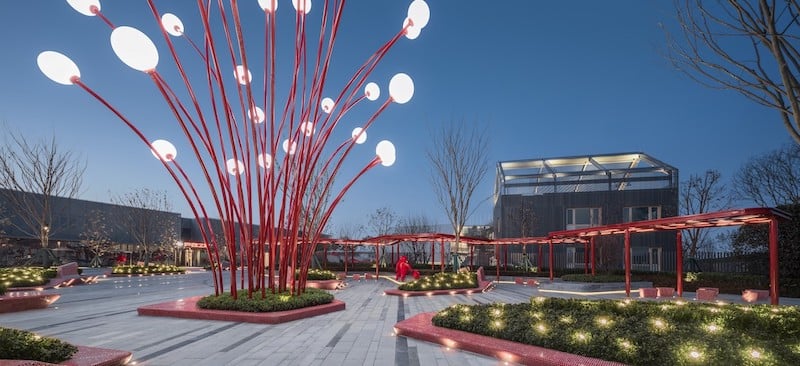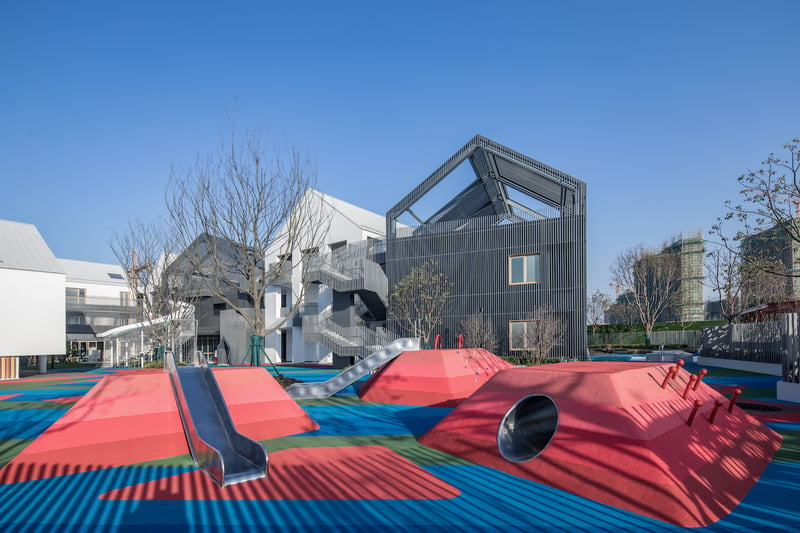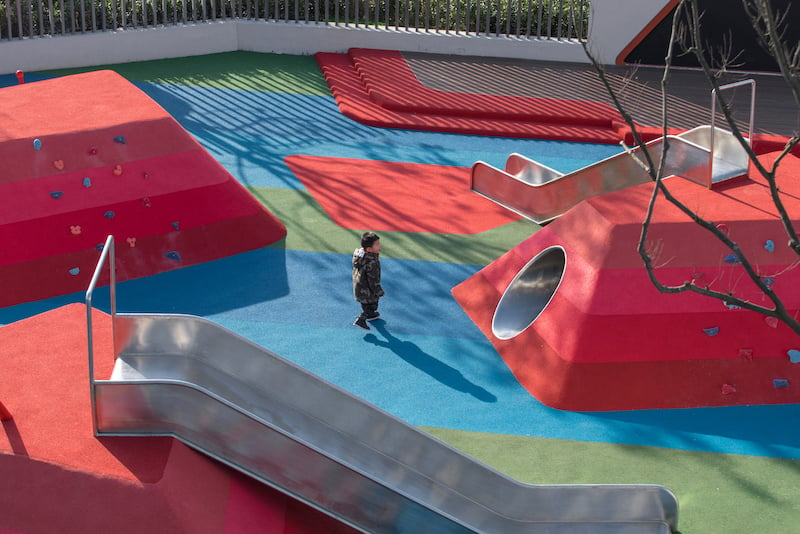 Above:

Pomegranate Place Vanke & Wantou Hefei, another multigenerational playground in Hefei, China, was inspired by the city's flower. Consisting of three zones: an urban park, community park and children's play park, it was designed as a place where children, adults and elderly can commune, enjoy the stunning visual elements and of course, play. For more information on the project, click here. Photo courtesy Aspect Studios.
Above:

Watch how "Blue Ribbon," a public space "intervention" according to its designers, inspires curiosity and play for all ages. (Shanghai, China)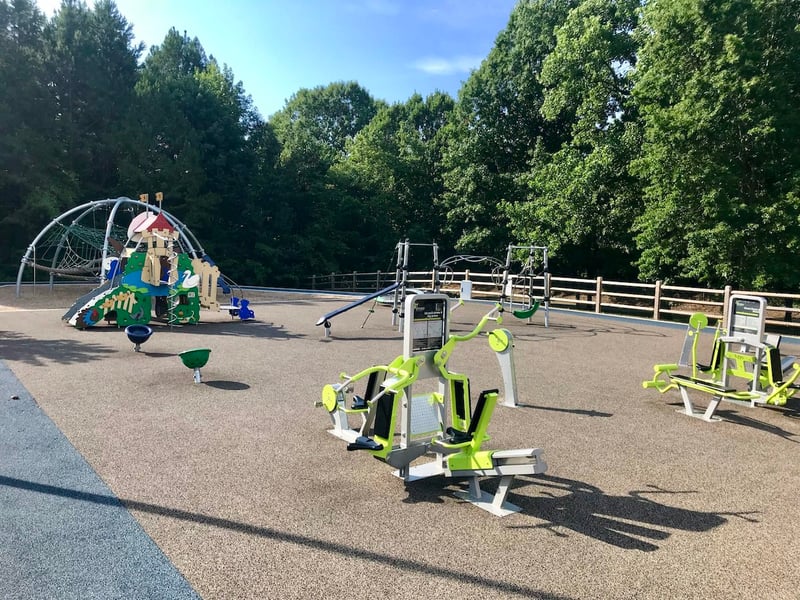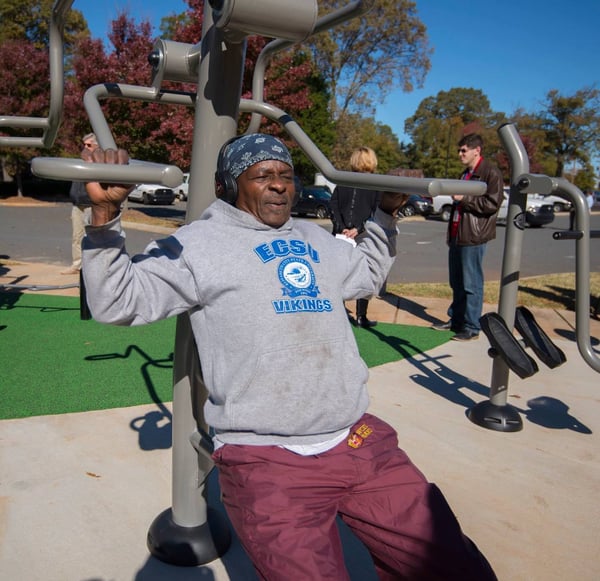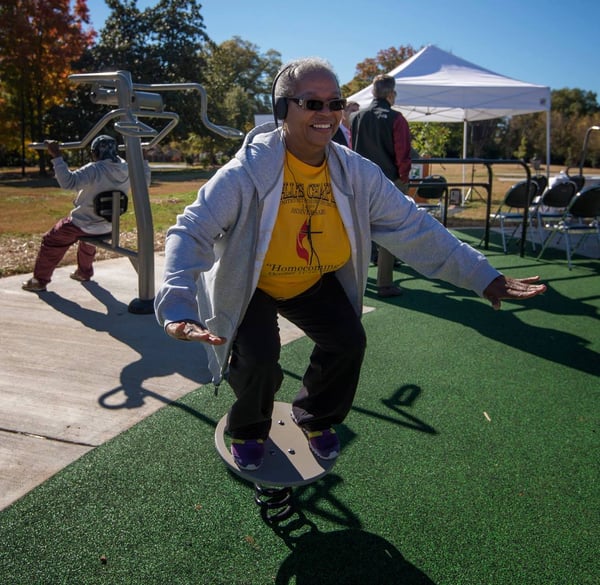 Above: A multigenerational playground at Marion Diehl Park in Charlotte, NC, provides traditional play structures and outdoor fitness equipment. Courtesy Mecklenburg County Park and Recreation.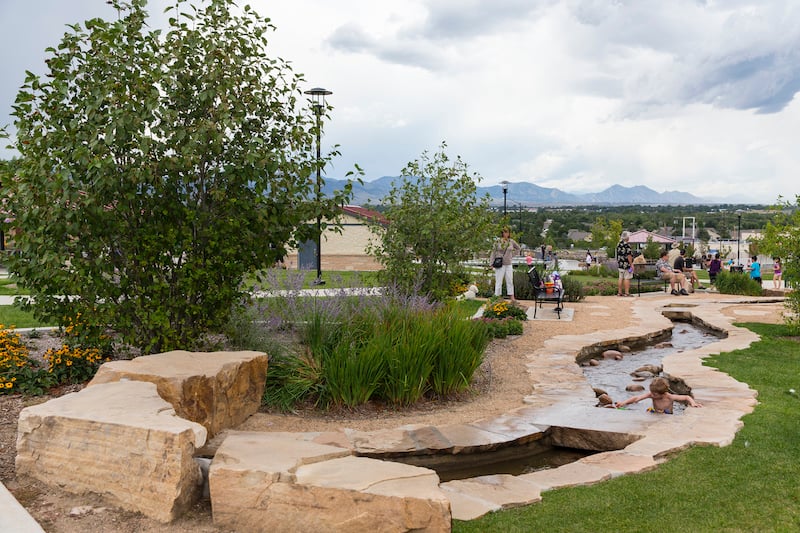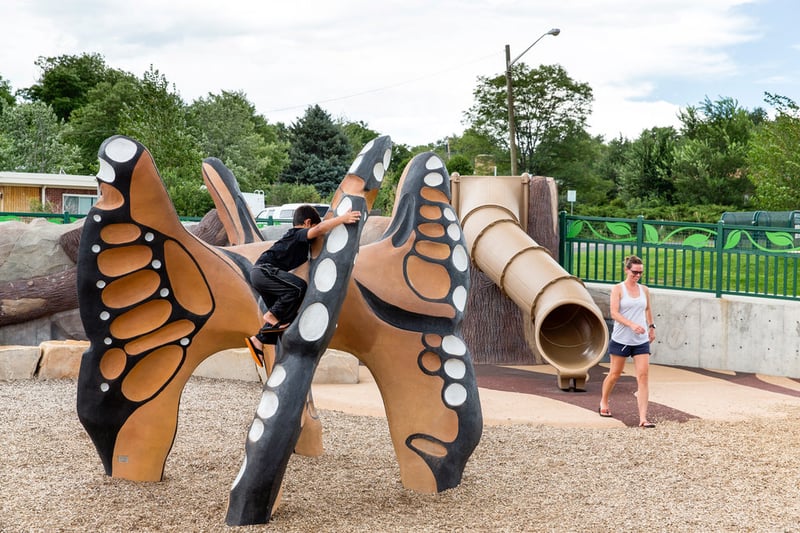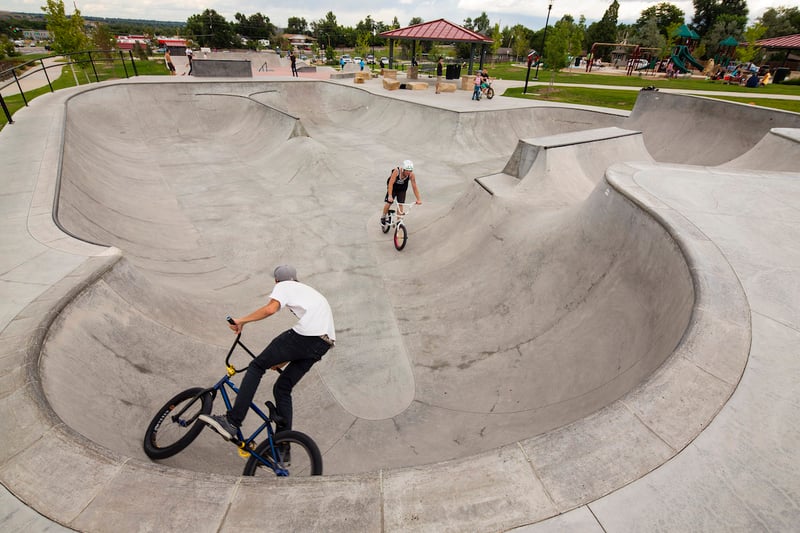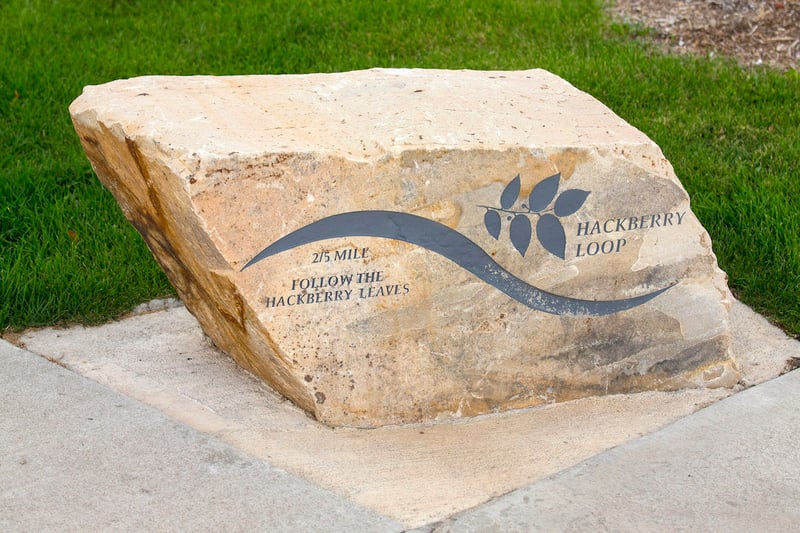 Above:
There's something for everyone at Discovery Park, a multigenerational play park in Wheat Ridge, CO. The park features a natural water play area, a butterfly-inspired climbing structure, a skate park, a traditional playground and a series of walking trails complete with artistic path markers. Courtesy:
Design Concepts
.
2. Accessibility and Inclusivity
Another exciting trend at the playground is the increased focus on accessibility and inclusivity, as we realize that universal design benefits everyone. Creating accessible and inclusive spaces prevents or reduces discrimination based on age, able-bodiedness or developmental disability, and fosters empathy.
Accessibility means making spaces that have something for everyone, and is governed by laws and regulations. Inclusivity goes beyond accessibility standards, by thoughtfully creating in a way that invites all participants to enjoy every part of the playspace.
To demonstrate, you might have an accessible playground where one area is designed to meet compliance requirements, while the remaining areas are not. With an inclusive playground all areas are accessible, and through its design, everyone is encouraged to enjoy and challenge themselves. In other words, no one is separated due to their own limitations. The following image shows what it means to be truly inclusive: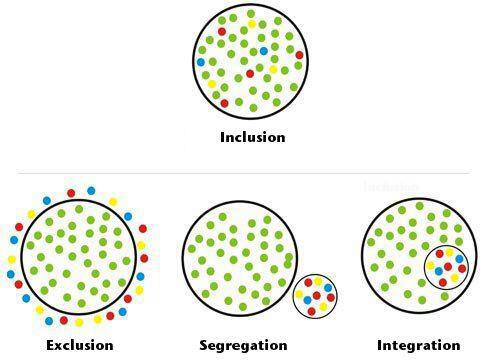 This graphic illustrates the differences on the spectrum between total exclusion and inclusion. Courtesy of
Think Inclusive
.
Creating accessible and inclusive playgrounds means everyone gets to participate, and when everyone is included, you have a stronger community. The leaders who built the playgrounds below are sending a strong message to their constituents: all are welcome here.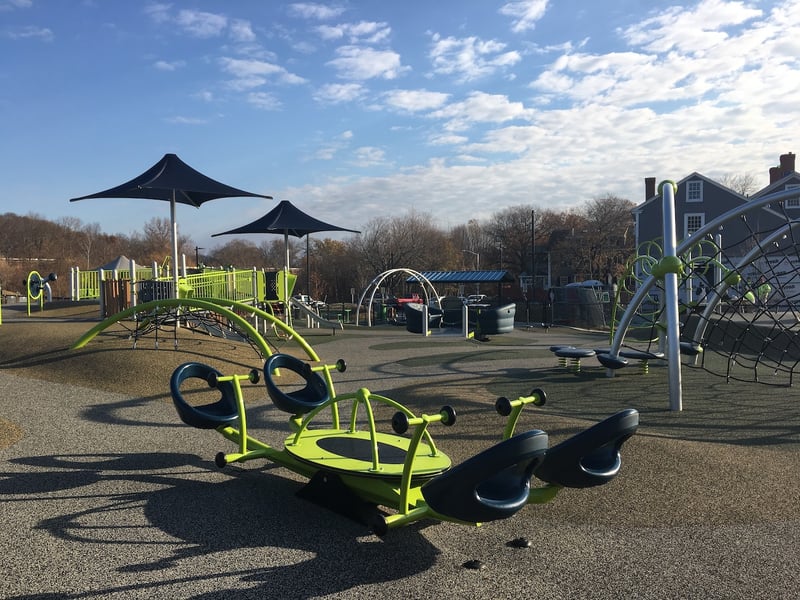 Above:

Both a multigenerational and accessible playground in Coes Pond Park in Worcester, MA. All 57 playground features are accessible. Courtesy City of Worcester.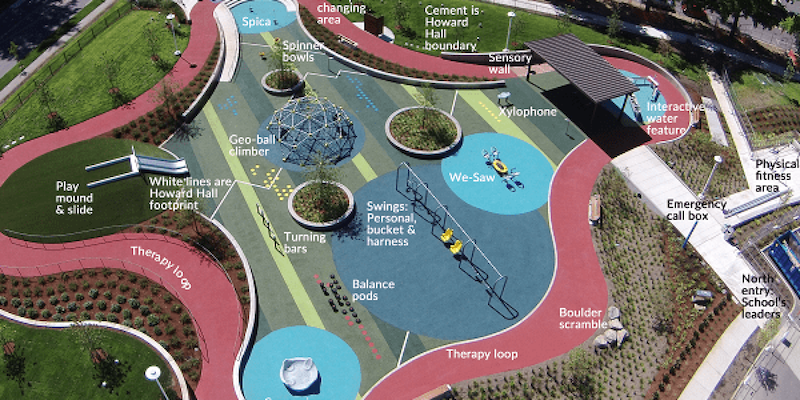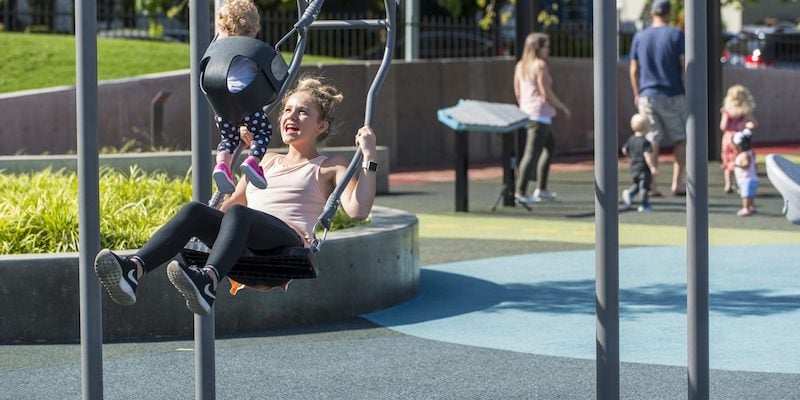 Above: "Let's All Play," a playground created for Salem Health, is both a public play facility and used for adult and pediatric rehabilitative services. Courtesy:
Harper's Playground
.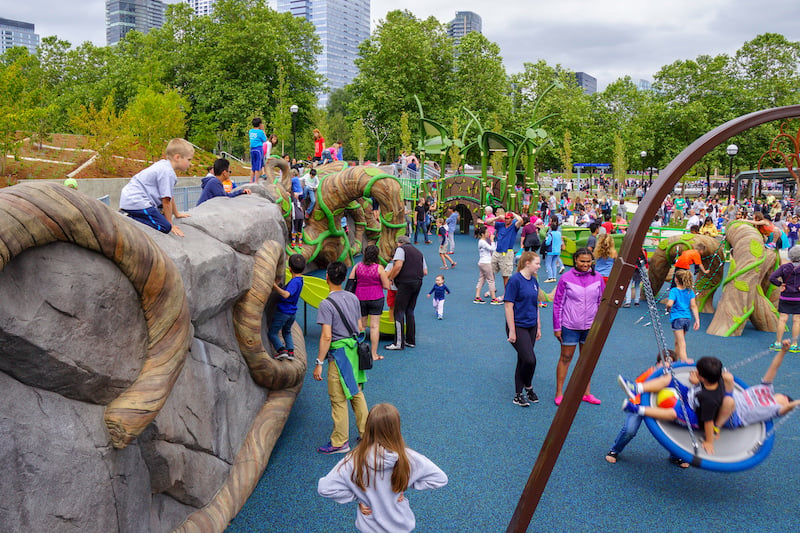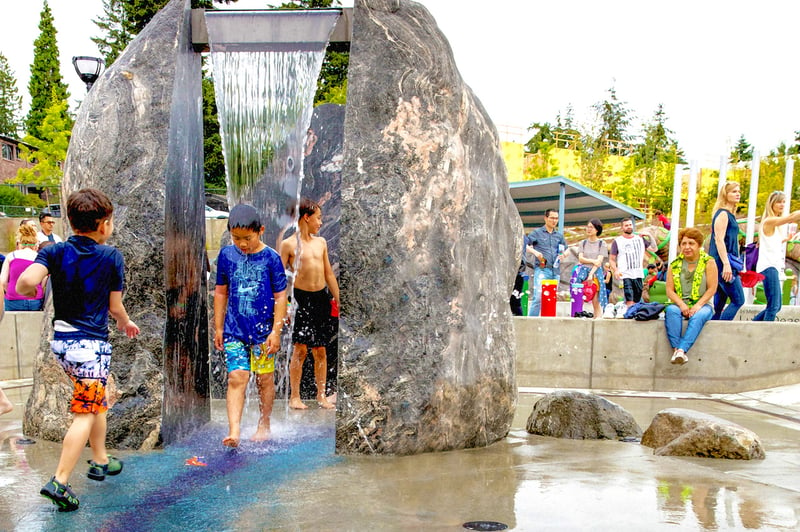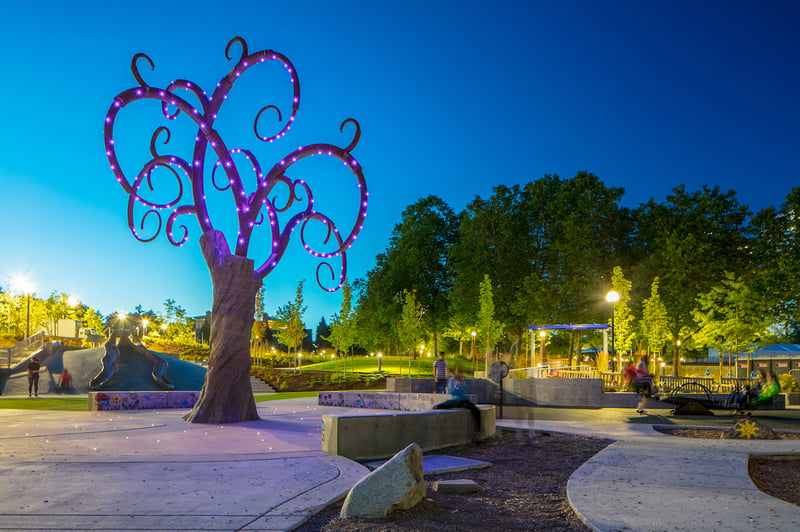 Above: Universally accessible and inclusive, Inspiration Playground in Bellevue, Washington, USA provides opportunities for people of all ages and abilities. In the top photo, children climb, swing and interact amongst the visually vibrant structures. Middle and bottom images: A boy walks through a waterfall between two "boulders," and the "wisdom tree" is a magical presence when it lights up at night to delight the senses. Landscape architectural firm
Design Concepts
won an honor award from the Colorado American Society of Landscape Architects (ASLA) for this playground. Images courtesy of Design Concepts.
3. Natural Playgrounds
Although not a new concept, designing functional playgrounds to minimize environmental impact is a growing trend for park architects. Installing natural playgrounds is an example of these efforts.
Natural playgrounds have a wealth of benefits. Beyond environmental conservation, which is obviously important to park and conservation organizations, natural playgrounds also increase play value and physical activity. Moveable, interactive elements such as stackable and climbable rocks, water play and sticks encourage children's creativity and social skills as they play together to create a structure, build a dam, or dig a large hole. Adding different plants contributes to sensory stimulation for all, and is particularly important for autistic, blind, or deaf children, making such designs more inclusive. Plants invite other visitors to the playground as well; birds, butterflies and praying mantis are just a few examples, delighting children and adults, encouraging environmental stewardship and outdoor exploration.
Preserving the natural treasures around us is perhaps the most foundational mission of park's departments, so the demand for design that supports their work will only continue to increase.
Here are some great examples of natural playgrounds: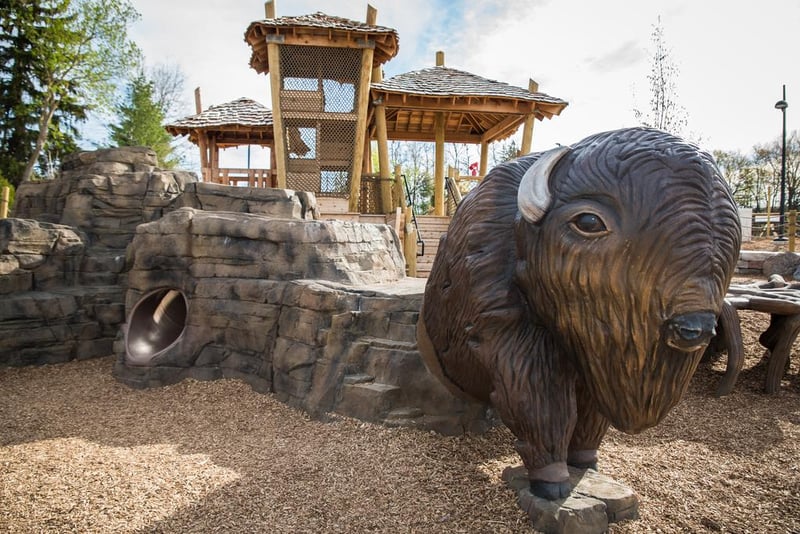 Above: Bison's Bluff playground is a natural playground in Schaumburg, Illinois. This fun space includes logs, boulders, sand, water and manufactured components that resemble natural elements. Visitors can even explore and build inside a "beaver lodge." Designed by
Hitchcock Design Group
, their work took home an award from the local chapter of the ACLA. Photo credit
Schaumburg Park District
.
"Natural playgrounds offer an extensive gamut of sensory opportunities and experiences beyond the standard plastic and steel playground and have been proven to do a better job when it comes to mitigating the frightening trends in childhood obesity, bullying, absenteeism, injury, attention spans, depression, community engagement, and environmental stewardship."

-Bienenstock Natural Playgrounds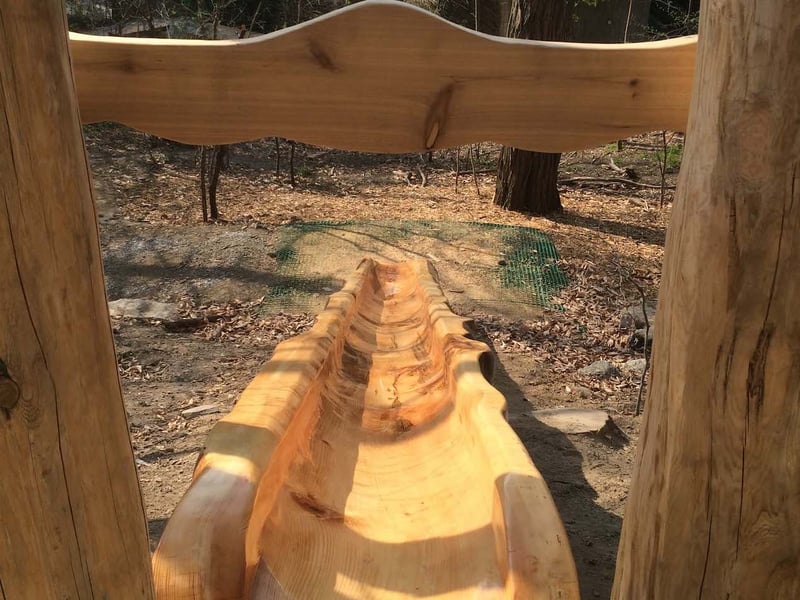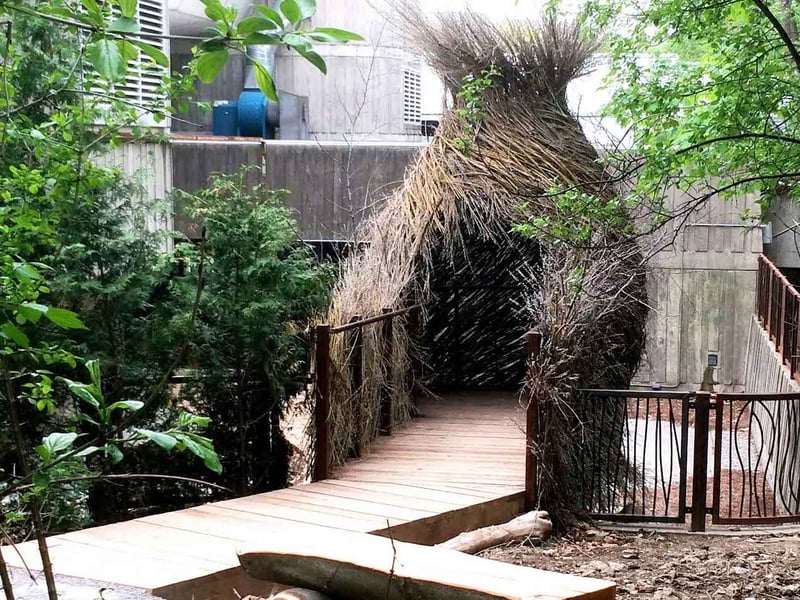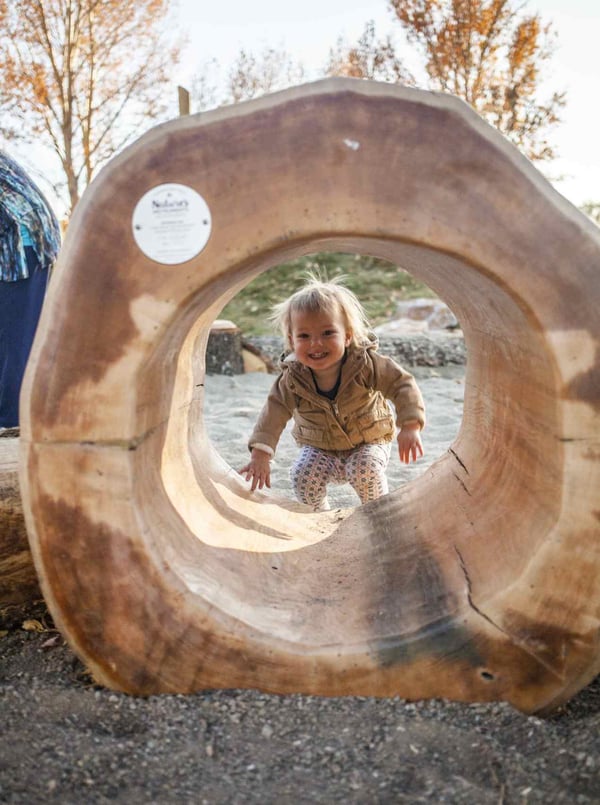 Above:
Two projects by Bienenstock Natural Playgrounds. The top two photos show a log slide and "bird's nest" at The Ontario Science Center in Toronto. The bottom three images show activity and natural features at Rio Grande Farm Park in Colorado, USA, including logs, a log tunnel and the water play area complete with sand and large stones. Image courtesy of Bienenstock Natural Playgrounds.
4. Themed Playgrounds
Scouring the seven seas for buried treasure, shrinking down to the size of a bee and traveling through your hive, or jumping in your firetruck to tackle a local blaze may sound more exciting than playing at a local playground, but in fact are the same thing with this next innovation. Themed playgrounds are popping up everywhere, and the diversity of themes makes this particular trend a fun one sure to lead you down a Pinterest rabbit hole.
Some of the many reasons themed playgrounds are popular:
They're unique. Themed playgrounds are special because they promote creativity, set the stage for imaginative play, and engage all ages and abilities.
Ready-made themes or customization options are available. Take the guesswork out by selecting an existing theme, or customize your vision. Customization is nice if you're looking to fill a specific need: branding the equipment with your logo and colors, a beachside community wanting a beach-themed playground, or see how the National Zoo celebrates a species with their "Me and Bee" playground below.
They're well-loved. These playgrounds draw a crowd and drive foot traffic to the area, making them a place of fun that also increases revenue for local businesses.
The many benefits of themed playgrounds make them an attractive concept for both patrons and investors. Enjoy these examples of themed playgrounds: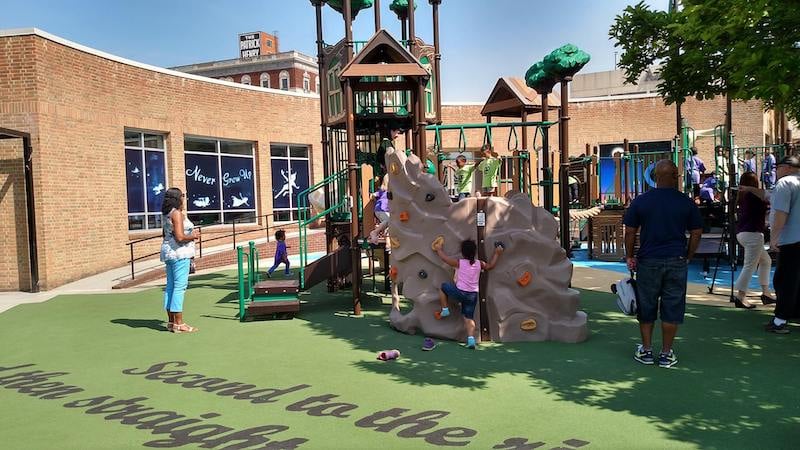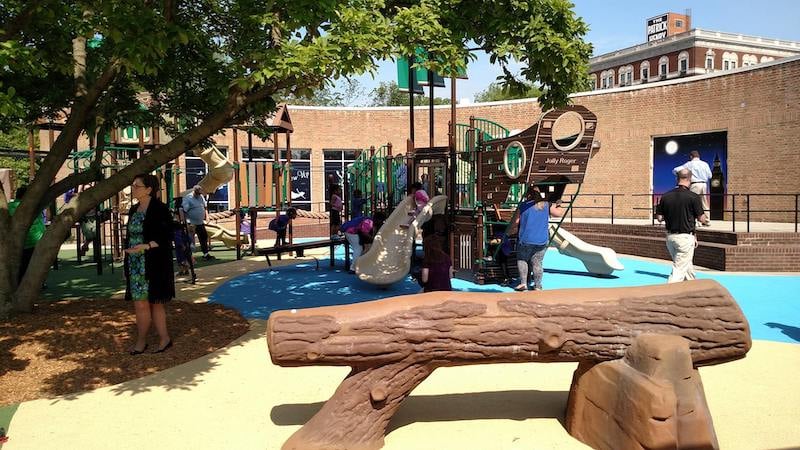 Above:
Never Grow Up: the design plans and images of Roanoke, Virginia's first themed playground located in Elmwood Park. Coinciding with the 100-year anniversary of the Peter Pan story, the playground includes a ship, rope bridge, the Lost Boys' treehouse and treasure maps highlighting local amenities in Roanoke. Photo courtesy
City of Roanoke
.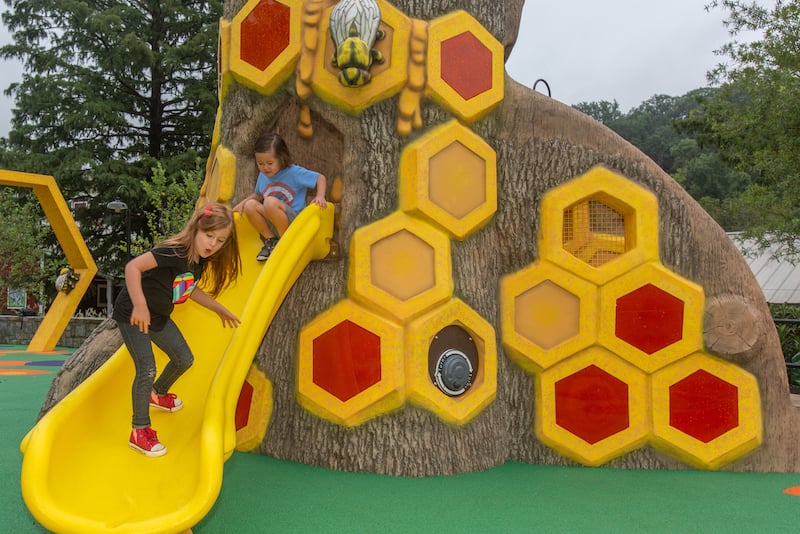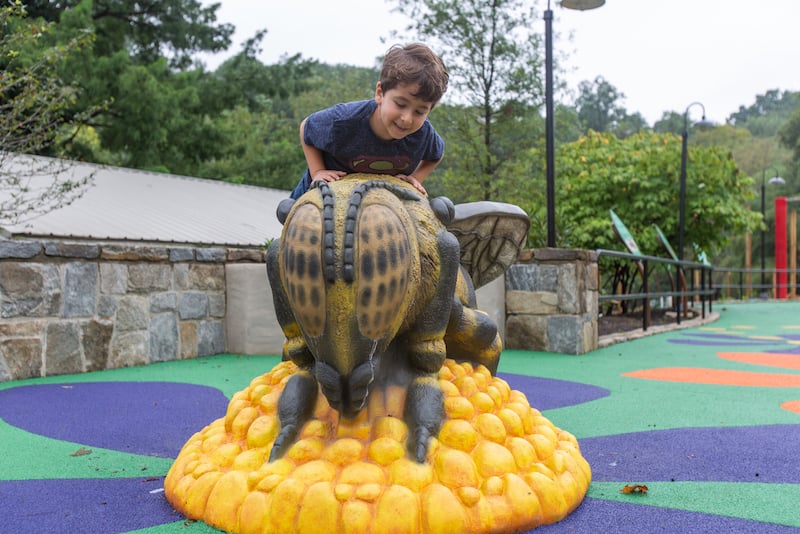 Above:
Me and the Bee is a themed playground at the Smithsonian's National Zoo in Washington D.C. The playground allows visitors to shrink down to the size of a honeybee. Photo credit: Roshan Patel,
Smithsonian's National Zoo
.
Does your town or city have an interesting public play space? Do you have an innovative project you'd like us to feature? What are the greatest obstacles to building cherished active community spaces? Tell us below in the comments!