We received so much buzz around our first article titled 'Four Innovative Trends in Playgrounds' that we compiled four more types of innovative playgrounds that are cropping up, and continuing to deliver joy, for #AllAgesAllAbilities in their community. You can expect to see more posts added to this blog series, spotlighting innovations in playgrounds, public sports facilities and parks, and recreation.
Here's a sneak peek into what you will discover in this blog: adventure playgrounds, musical playgrounds, pumptracks (of course!), and sustainable playgrounds. Let's go!
1. Adventure Playgrounds
Adventure playground concepts are emerging as an alternative to the standard playground you often see. A lot of the traditional playgrounds were designed to remove any sort of risk or challenge amid safety concerns from parents worrying about their kids getting hurt.
Adventure playgrounds are designed to incorporate more play and develop healthy risk-taking within children while decreasing the chances that serious injury can occur.
These playgrounds sometimes can involve the following items:
Pieces of Wood
Tools
Sandboxes
Adventure playgrounds allow children to "run wild," building and experimenting with unique materials. They act as a way to help children break away from their highly controlled environments at home and in the classroom. This type of playground can play an important role in a child's development and allow them to experience independence and improved problem-solving skills.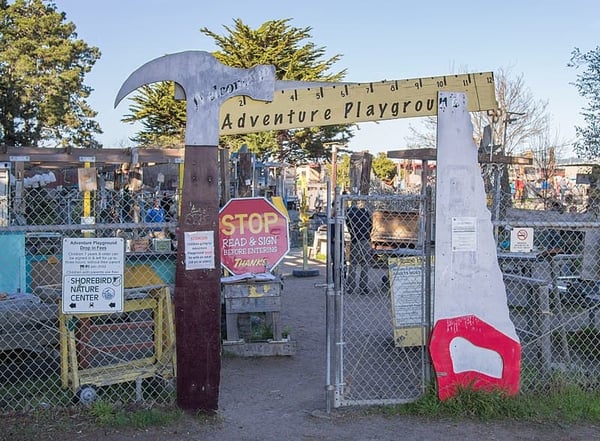 Adventure playground located in Berkeley, Ca. which is one of the original adventure playgrounds in the U.S. Photo: Wikimedia Commons
The playgrounds can look like a scrap or junkyard, but they aren't! (Maybe it's the picnic areas with tables and barbecues that will help you discern). All jokes aside, it is important to note that adventure playgrounds are operated by trained adult supervisors who help the children use the tools, and ensure the general safety of the children.
These supervisors look out for potential safety threats, like rusty nails and broken glass. Although this type of playground is less controlled than a traditional playground, it is still a safe place for your child to learn, grow, and explore.
Adventure playgrounds are generating a 53% increase in visitation to local parks, and also help increase the physical activity of the average child. Adventure playgrounds allow children to manage and assess risk in their own way, which can actually help prevent injury in the long run.
The theory among child educators is that the types of situations presented at an adventure playground help children improve their own risk management skills and deal with day-to-day life much better than children who play on the traditional cookie-cutter playground.
2. Musical Playgrounds
Another innovative trend that is happening among playgrounds is the rise of musical playgrounds. Creating a musical playground is a great way to help children discover their creativity as the playground not only has obstacles for children to climb and scale but musical instruments as well. This is a great way for children to explore and express themselves. For children with sensory challenges, musical playgrounds are a great way to promote positive speech and cognitive development.
What will you find at a musical playground? Chimes, xylophones, drums, and other percussion instruments are all common at a musical playground. The playground is typically colorful, with lots of room for children to play and explore.
Watch this fun video of the musical Freenotes Harmony Park in Moab, Utah.
Musical playgrounds aren't just for parks. Community centers, senior centers, and museums have expanded their offerings to include musical playgrounds, making this type of play area accessible to people of all ages.
There are many benefits to spending time in a musical playground:
Experimenting with different instruments and creating music with others can help children improve their social development.
Learning to harmonize and work as a team is an important skill for children to cultivate!
Remembering patterns and musical notes helps build strong cognitive skills, which can prepare young children for school, and help students improve their memorization.
A musical playground also provides an interesting and active way for children to work on their fine motor skills.
3. Pumptracks
Do you remember the feeling you get in your gut during a big drop on a roller coaster when you were a kid?
That's exactly how pro rider, turned bike park architect and pump track manufacturer, Erik Burgon, describes the feeling of nostalgic fun. And, this feeling is precisely what inspired Erik to design Parkitect's pumptracks.
His zest for fun isn't an anomaly. That's why pumptracks are becoming a trend in communities trying to utilize public space efficiently and foster exercise in children and adults.
Often built with asphalt, concrete, or composite material, pumptracks are a great way for different types of riders:
Bikers
Skateboarders
Roller blader
Scooter riders
To hone their skills and build muscle memory.
All ages and abilities can enjoy pumptracks. Credit: Sean St. Denis
One of the things we love about pumptracks is that the design of the track gives all riders the opportunity to improve their skills and they are a great way to build something exciting for the community at a reasonable price.
Pumptracks are designed for all skill levels, from those new to the tracks to those who are already pumptrack pros. They are also built for accessibility to all, including those in wheelchairs, which makes them an exciting way for groups to come together and exercise in a shared space, despite their level of expertise.
A PARKITECT red modular pumptrack installed a local park in Oberstaufen, Germany.
Using a pump track is an incredible workout! You'll sweat and build muscle through the pumping motion that's necessary to ride around the track. Riders also learn to control their speed and get faster over time.
4. Sustainable Playgrounds
Playgrounds made from sustainable, environmentally-friendly materials is another rising playground trend. These sustainable play areas feature recycled materials that are meant to last for generations. The sturdy structures are built using sustainable practices, creating little (if any) waste, using little water, and emitting almost no carbon dioxide.
Sustainable playgrounds aim to provide an accessible play area for children of ages and encourage environmentally-conscious practices.
Some sustainable playgrounds feature information about reusing and recycling materials, decreasing water use, information on building a compost bin, and other helpful tips for children and families.
For example, Tatum's Garden, a park located in Salinas, CA, was built with 94% post-consumer recycled plastic! Awesome!
These playgrounds provide an innovative way for communities to improve their sustainability efforts and also create a lasting and enjoyable playground experience. As many cities and smaller communities are looking to increase sustainability and decrease waste, these playgrounds are an effective way to reuse old materials and contribute to city's efforts to build sustainably and emphasize the importance of being environmental stewards to the next generation.
Each of these innovative playground trends offers a multitude of options for public parks and city officials to help foster a more creative atmosphere for their citizens and diversifies the recreational opportunities for citizens.
These four trends are really just the tip of the iceberg; for municipality officials considering them, there are many different styles and options to explore. Innovative playgrounds play an important role in the health of a community and provide an interesting and exciting way for people of all ages and skill levels to exercise in the outdoors.
Want to learn more about bringing a pumptrack to your community? Let's talk!