As pumptrack enthusiasts, lovers and builders, we are inspired by how many cool, unique and awesome pumptracks there are across the globe. So we've decided to create our own pumptrack bucket list and thought our readers would enjoy the benefits of our research. We plan to make this post just the first of many in the future to produce the world's most comprehensive list of outstanding pumptracks.
So without further ado, here are our first five recommendations:
1. Philly Pumptrack (Philadelphia, PA, USA)
Location:
Philadelphia, PA.
Track material:
dirt, currently fundraising for asphalt berms.
Why we love it:
highly active, involves the community and welcomes engagement.
About the Philly Pumptrack:
The Philly Pumptrack is a special place; volunteer-run and jam-packed with events. At the time of writing this post, two events had been added to their Facebook page just within the past 24 hours (an upcoming Bikes and Brews fundraiser and the season's first dig night!)
The track has been a huge hit since opening in 2014. Today the track has 4,469 followers on Facebook and 4,246 followers on Instagram. It operates entirely using community support: local business sponsorships, donations, fundraisers and volunteers. They even offer free helmets, bikes and equipment so everyone can enjoy the track. In 2019, they added dirt jumps, redesigned some berms for advanced riders and improved the track's drainage. The Philly Pumptrack is an inspiring example of what can happen when we work together.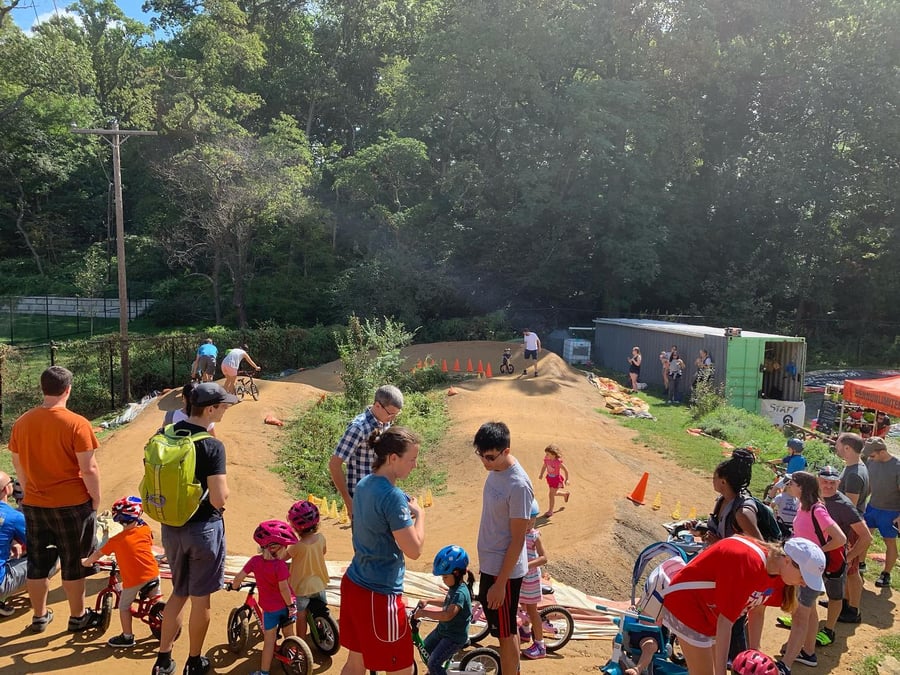 Heidi, board member and founder of the Philly Pumptrack, told us that their next wish list item is an indoor track, but as industrial space is limited and expensive, there is nothing planned at this time. (Hint, hint anyone reading this.) In the meantime, patrons are anxiously awaiting opening day of the outdoor track when the weather warms in May.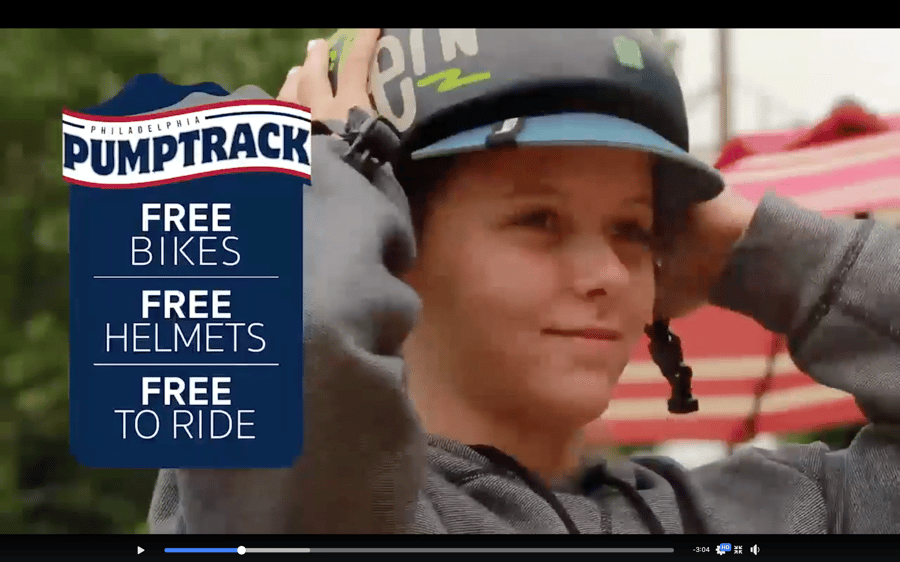 2. Velosolutions #PumpForPeace pumptrack (KwaDebeka township, Durban, South Africa)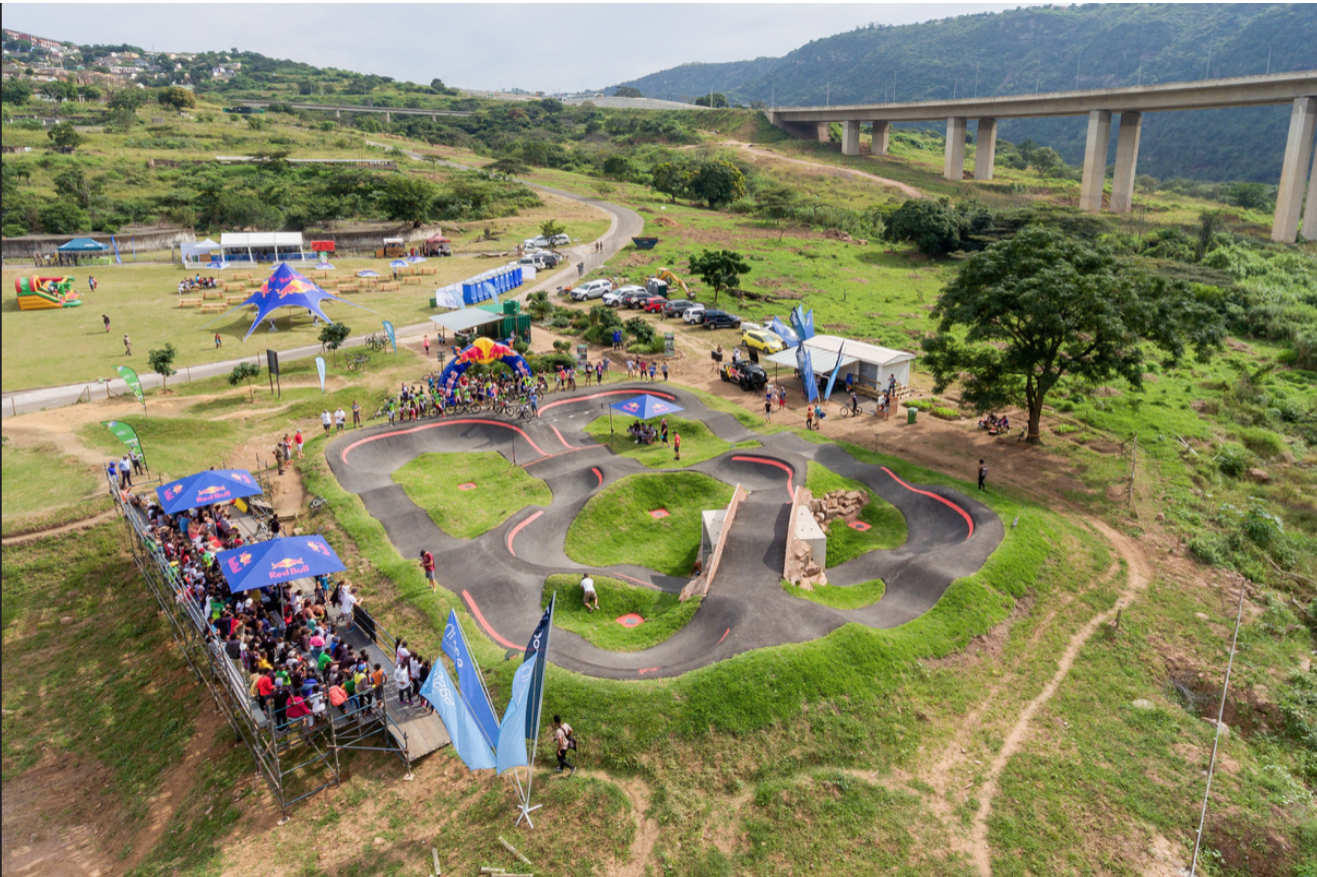 Location:

Township of KwaDabeka, Durban, South Africa.
Track material:

Asphault.
Why we love it:

More than a pumptrack because of its social mission, beautiful scenery, and its bridge and tunnel!
About the Velosolutions KwaDebeka pumptrack:
Designed and built by Velosolutions as part of their #PumpForPeace initiative in beautiful South Africa, we think you'll be inspired by this pumptrack in the KwaDebeka township of Durban. The #PumpForPeace effort aims to grow the love of cycling in underserved communities through pumptracks, bike and bicycling equipment accessibility, workshops, cycling team support, and cooperation with youth and governmental organizations.
This KwaDebeka pumptrack was built in cooperation with the Go! Durban cycling academy, whose goal is to encourage youth to be their best through the pursuit of sport, education, engagement and play. The track was also built with the intention of bringing white and black riders together to enjoy the universal appeal of a pumptrack.
Besides all of the great social justice reasons to support this track, the photos below demonstrate the visual appeal of the track. Tucked amidst green, rolling hills and the perpetual sun and warmth of this subtropical region landed this track the second spot on our list because: what's not to like?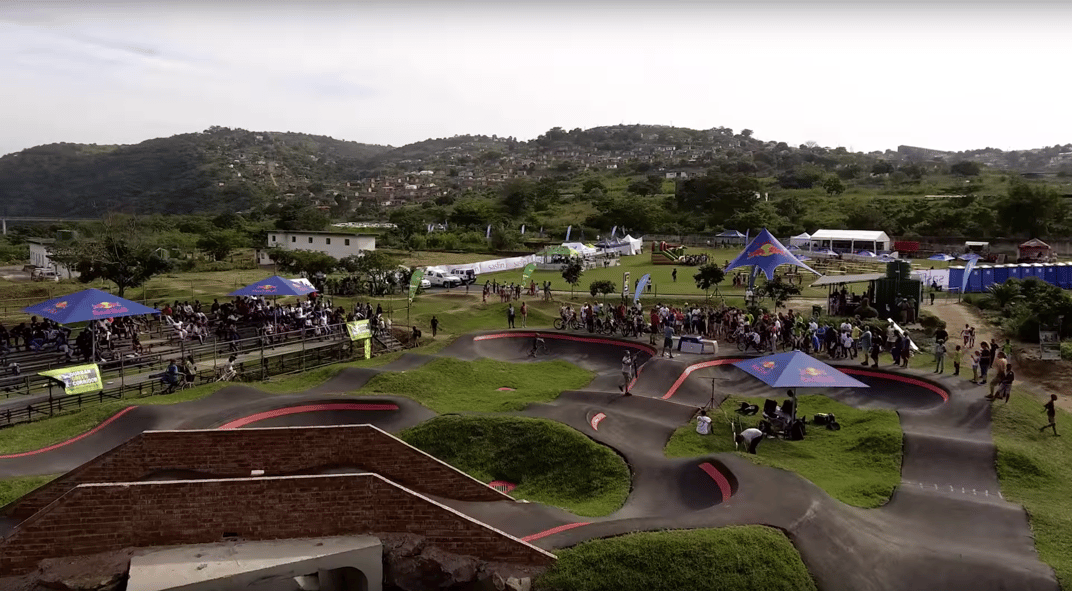 3. Bikepark Zürich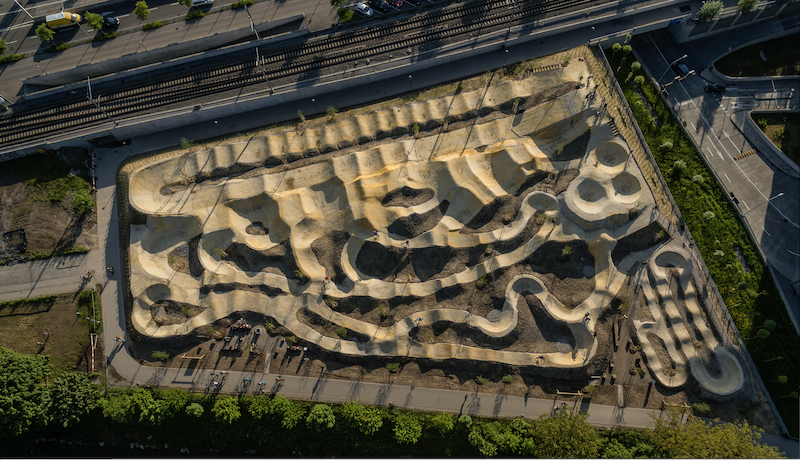 Location:

Zürich, Switzerland.
Track material:

Proprietary blend of soil mixed with concrete.
Why we love it:

The park offers three levels of difficulty, and is one of the largest, free, publicly-owned bikeparks in the world!
About Bikepark Zürich:
Built in 2013, Bikepark Zürich is the largest urban bike park in Europe. Free entry, its centralized location in downtown Zürich, and tracks for every skill level make this park highly accessible. The park is composed of four different tracks:
Balance bike track (ages 2+)
Pumptrack (beginners)
Jump Track (intermediate)
Urban BMX (advanced)

A destination for local bikers and professionals worldwide, this bikepark will compel out-of-town visitors to ask their hometown officials, "Why can't we have a bikepark like Zürich?"
---
4. The Pumptracks at BikeRepublic Sölden (Sölden, Austria)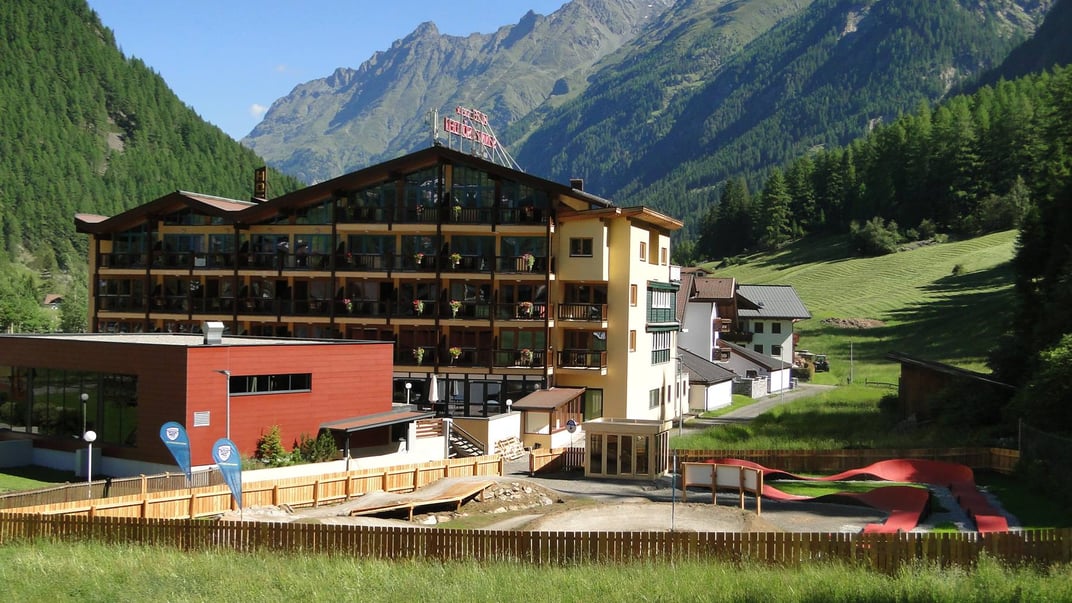 Location:

Sölden, Austria.
Track material:

Composite, wood slats.
Why we love it:

A biker's dream vacation destination, this alpine municipality has two pumptracks and trails encircled by Austria's legendary mountain ranges.
About Bikepark Sölden:
Built in 2015 in the alpine resort town of Sölden, BikeRepublic Sölden is an incredible space for cyclists. Featuring natural trails, ecologically built lines, enduro routes and two PARKITECT pumptracks at the base, there is plenty to ride across all levels of difficulty. The pumptracks were provided by our distributor, PZ Pumptrack Austria. One track is built into the surrounding landscape and incorporates some wood slats and the other can be found at Hotel Sunny, a picturesque, four-star bike hotel. Also found in this biking haven:
Bike schools with guides.
Technique training and equipment.
A bike washing station.
Bike shops.
Bike hotels.
Family-friendly and full of fun, checkout BikeRepublic's Solden and Sölden's summer site to plan your visit.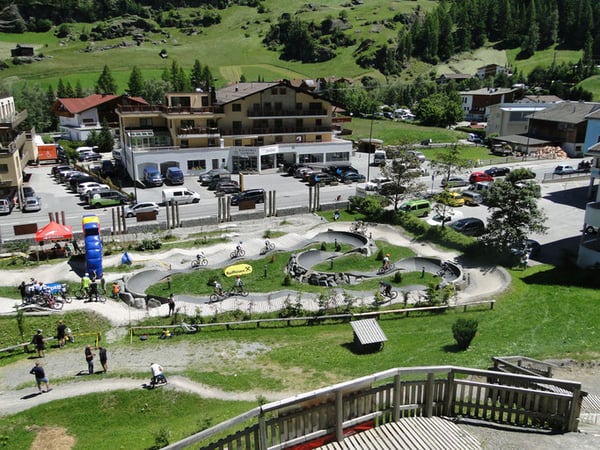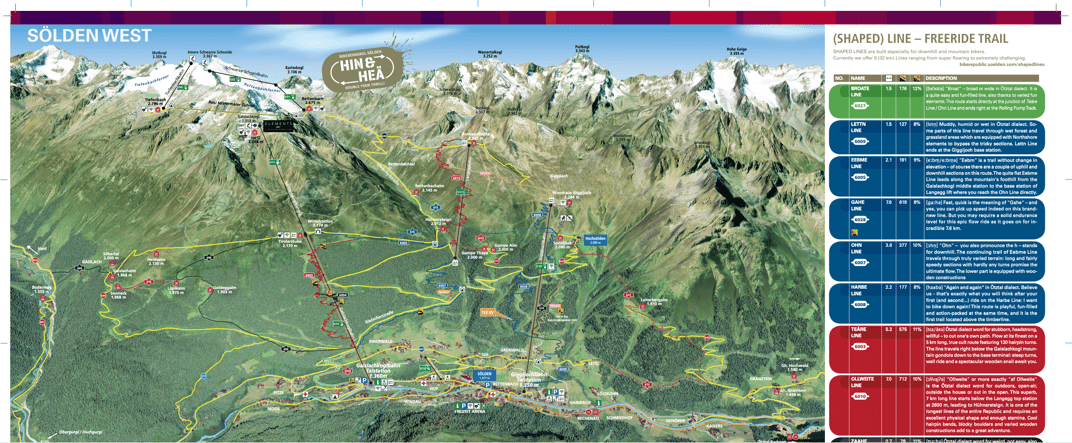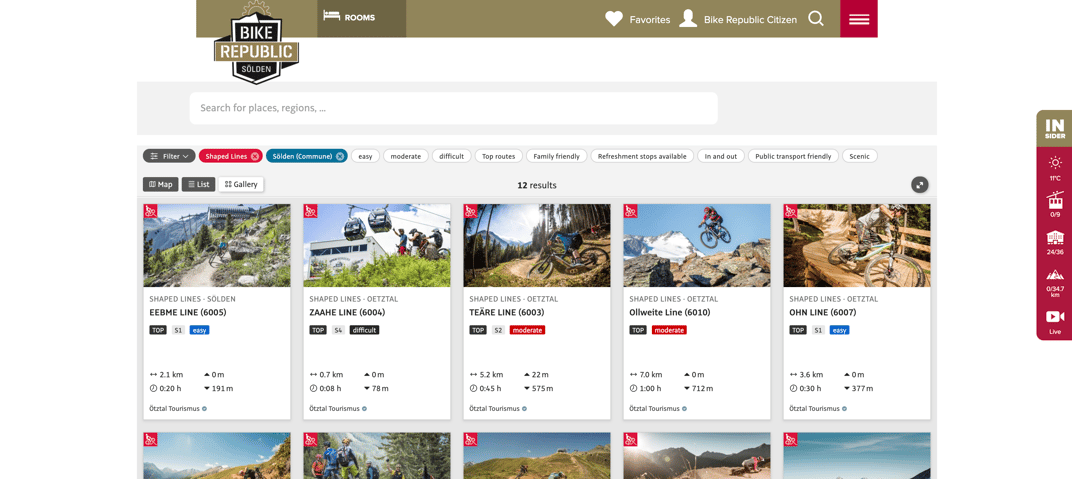 ---
5. Cyclist Park, East Coast Park (Singapore)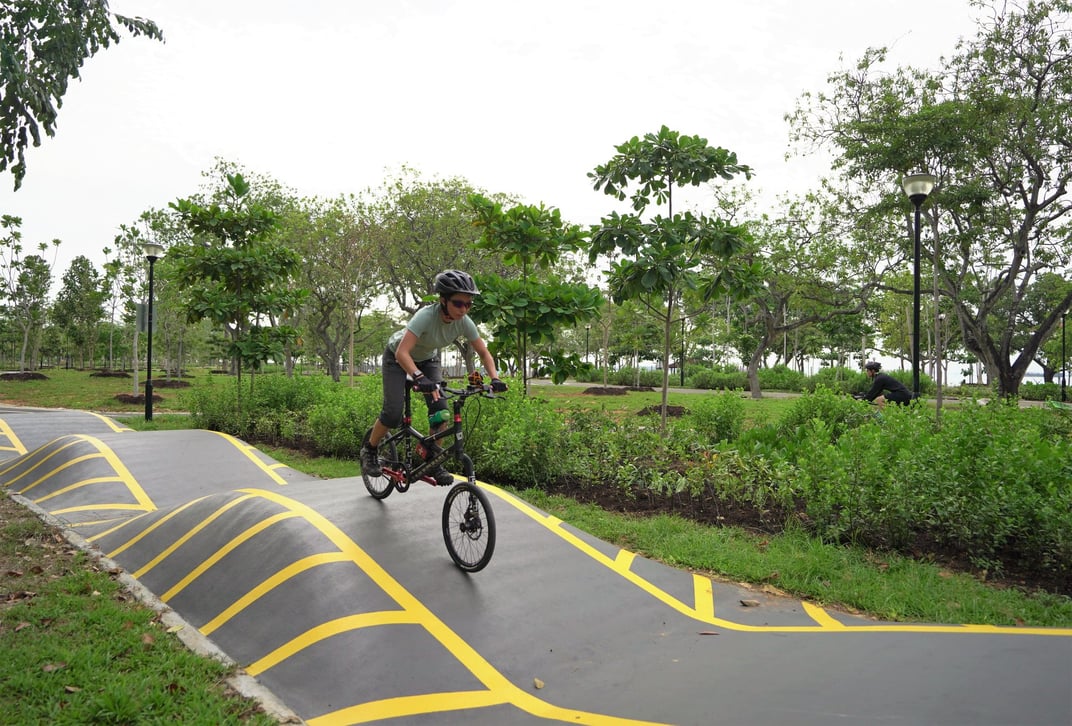 Location:

East Coast Park, Singapore
Track material:

Painted Concrete
Why we love it:

It is just a small part of a fun cycling park and Singapore's massive East Coast Park, adjacent to the water, tropical scenery.
About the pumptrack at Cyclist Park:
Spoiler alert: we chose to feature this park not because of its pumptrack, but because of the park's plentiful opportunities for cyclists and incredible scenery. The small "pumptrack" may actually be better described as a bumpy path that is part of Cyclist Park, which is part of Singapore's most popular East Coast Park. Collectively, this area is a treasure trove of outdoor exploration and recreation.
Cyclist Park opened at the end of 2019 and features a variety of tracks, paths and skill-building areas. After you've had your fun at Cyclist Park, you can continue riding on the bike paths that hug the ocean along East Coast Park's 15 kilometers of coastal scenery. Other things to do at this park include camping, fishing off the jetty, letting the kids run wild at Marine Cove Playground, sandcastle building and water sports. Cyclist park's skill-building areas, kilometers of safe bike paths in East Coast Park, the variety of other activities and remarkable scenery make this park one of a kind, securing its spot on our list. If they are ever interested in building out a proper pumptrack, we'd love to help! 🙋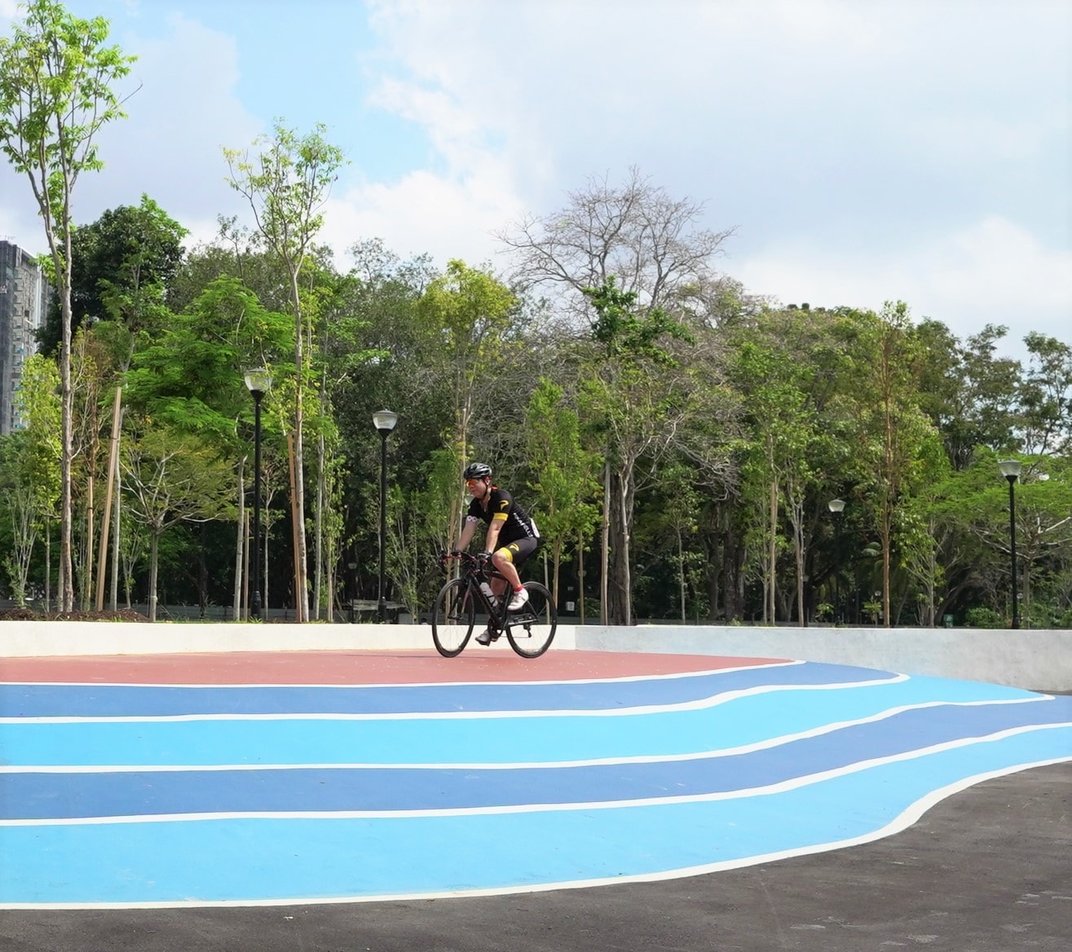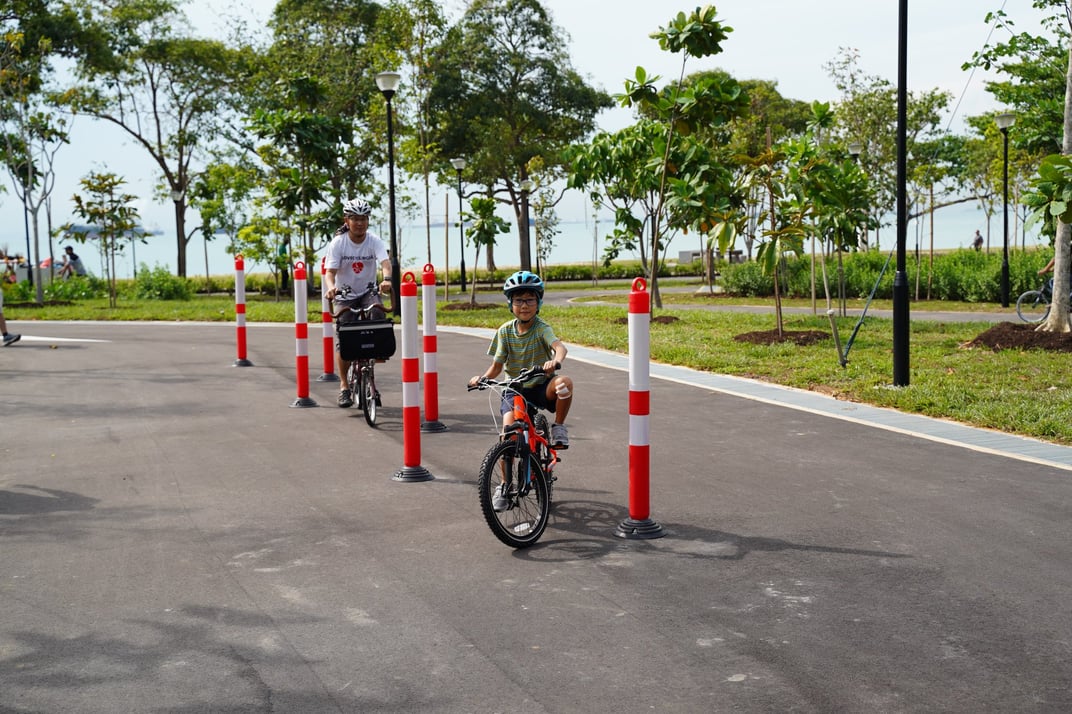 Have you visited any of these pumptracks? What did you think? Which track or tracks would you like to visit? Is there a pumptrack we should feature in a future World's Most Awesome Pumptrack series post? Tell us in the comments! 👇