Something naturally happens when you go outside.
You get a little bit calmer. Stress and anxiety start to melt away.
You just feel happier.
You don't have to be a scientist to understand those feelings. But, scientists who research mental and physical health, have actually assigned data to the benefits of green space and outdoor activity.
In fact, a study conducted by the International Journal of Environmental Health Research shows that spending just 20 minutes in a park — even if you don't exercise while you're there — is enough to improve wellbeing.
Though 20 minutes outside doesn't seem like much time at all, if you don't make time for it, it's easy to forgo.
Especially now, amid COVID, many people are self-quarantining and trying to limit interactions with others. As an unfortunate consequence, many people are turning to screen time to bide their time.
Eric K. Singhi, a Houston-based doctor, recently tweeted that during COVID, his screen time had increased 185% (to an average of 8 hours and 32 minutes a day).
Increased Screen Time = Decreased Happiness
Though COVID might be highlighting and increasing our bad technology habits, the battle between getting outside and the temptations of staying indoors to play video games, binge Netflix, or check social media has been apparent for years.
One study from 2019 shows that, on average, children spend nearly 5-7 hours invested in screen time (TV, computer, phones) per day. Another report by research firm, Neilson, shows that the average adult spends roughly 11 hours a day interacting with media.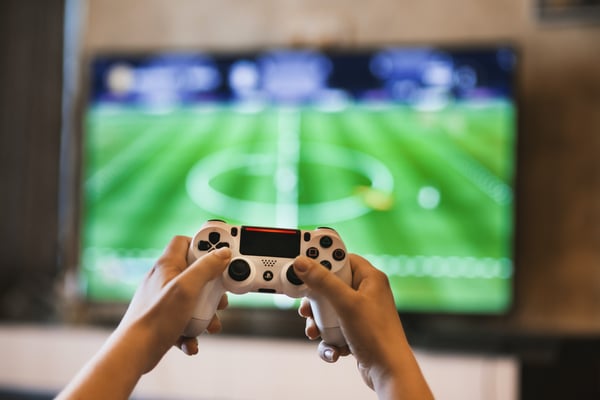 This amount of screen time can adversely affect health and wellbeing. Studies show that:
To combat these trends, medical professionals have begun to prescribe their patients outdoor time.
Parkscriptions to Combat The Indoor Blues
Doctors, health care providers, and medical facilities worldwide have begun to dole out "Parkscriptions," which aims to give members of their community 'a dose of nature.'
A Parkscription might advise you to:
Take a hike
Ride your bike
Play frisbee
Take a stroll through a botanical garden
Stargaze
Fly a kite
Lay in the grass
There are similar initiatives like the National Parks Rx Day, and the Japanese practice known as "forest bathing."
No matter what name it goes by, the intent is the same: to improve the health of others through the interaction with nature and outdoor activities.
These activities, when done outdoors, can help:
Reduce anxiety and depression
Ease ADHD and ADD symptoms
Increase physical wellbeing, like lowering blood-sugar, physical activity, and more exposure to Vitamin D
Improve overall mental and emotional wellbeing
Increase community empathy and connectivity
A Unique Way to Fill your Community's Parkscription
Use a Pumptrack.
(If you haven't heard of a pumptrack already, you can read up on the details of what a pumptrack is here.)
How Pumptracks Can Benefit Your Community
If you're an event planner, a parks and recreation coordinator, a health professional, or a parent: you might already know how difficult it is to find activities that make your community, colleagues, family (and self) get out and get active.
Luckily, many communities find success with pumptracks because, they offer a unique and enjoyable form of activity for all ages and all abilities.
1. Pumptracks are popular.
If you build it, they will come. Pumptracks have proven to be insanely popular across the world with major events like the Red Bull UCI Pumptrack World Championships, which is a series of over 23 events that take place all around the world.
Check out this video from a qualifier event in Portugal this year.
2. Pumptracks build a connected community.
Pumptracks are for literally everyone. All ages, all socio-economic backgrounds, and all physical abilities. Because a public pumptrack appeals to everyone they can:
Improve overall park traffic and use
Increase return visitors
Help foster new social relationships
Build a better sense of community
You can see the impact of the pumptrack community, on a global scale, via an initiative called #PumpForPeace which aims to give kids in underprivileged areas access to cycling.
3. Pumptracks are safe.
Pumptracks are specifically built to accommodate varying skills and abilities, and PARKITECT always keeps safety in mind.
Our designs are:

Low to the ground.

While pumptracks can make both kids and adults feel like pro-skaters or bikers, all surfaces and edges are low to the ground. So if anyone does take a tumble, it's never from a high point.

Built with rounded edges, gentle embankments, rollout zones, and no rocks. These components help reduce injuries and guarantee a safe riding flow.
Located strategically. We work with clients to build designs away from traffic and closed-circuits, so anyone riding will be safe. This also gives beginners the chance to learn how to ride a bike safely, and away from the threat of car traffic.
Pumptracks are also mobile and easy to assemble, so you can test them around your community and get a sense of its popularity. Then, when you've found the best spot, you can add a permanent model in your community.
Once installed, you--and your community--can easily fill your "Parkscription" and improve the physical, emotional, and mental health of your community! Learn more about bringing a pumptrack into your community today!