Nestled high in the French Alps, you'll find the beautiful Les Gets mountain resort, brimming with all kinds of outdoor recreation for families and adventurers of every age. Les Gets is part of the larger Portes du Soleil area, which encompasses 13 resorts in 14 valleys between Mont Blanc in France and Lake Geneva in Switzerland.
Riders enjoy spectacular views in Les Gets. Credit:
Les Gets
Among a variety of offerings, such as hiking, swimming, golf, and skiing, cycling stands out as a favorite for many. Les Gets is a world-famous biking destination with one of Europe's largest bike parks and several pumptracks. Facilities cater to every level of rider and all types of cycling, including downhill, freestyle, enduro, e-biking, road biking, and pumptrack riding.
Every year, Les Gets hosts a range of cycling events, from the Pump Track Challenge to several disciplines in the UCI Mountain Bike World Championships. Besides the pro races, the tiniest of kids can enter the Run Bike Challenge, friends and family can team up for the Alambike 24-hour mountain bike relay, or really intrepid types can join over 7,500 participants to take on the Pass'Portes, the famous mountain bike ride between France and Switzerland.
Recently, Les Gets was named the official Olympic training center for cross-country mountain biking in preparation for the 2024 Olympic games.
The cute factor is high at the Run Bike Challenge. Credit:

Les Gets
Surrounded by restaurants, shops, and chalets at the foot of mountain slopes, the charming Alpine ambiance of the Les Gets town square draws in locals and visitors year round. In the winter, a picturesque outdoor ice skating rink fills the square, and people come to take a turn on the ice or mill about the village enjoying food, drink, and company.
In the summer, a PARKITECT pumptrack replaces the ice rink and serves much the same purpose, gathering people of all ages to enjoy the track or just relax, have a drink, and watch the riders. Parents can rest while their kids ride their bikes safely in the area, families can ride together, or experienced riders can improve their cornering and pumping skills. Access is free and the track is open all summer long.
The ice rink becomes a pumptrack in the summertime. Credit: Les Gets
Before the pumptrack was installed, the summertime town square was not quite as lively as the winter scene with its ice skating rink. Les Gets needed an innovative way to attract visitors to the resort center during the summer months. Rémy Roche, cofounder and president of E2S Company, a bike and skate park design and construction company, approached Les Gets management with the idea of adding a pumptrack as a focal point in the village center during the warmer seasons.
Roche's company distributes PARKITECT products, and he suggested a modular pumptrack, which can be moved, reconfigured, and expanded. This was a perfect fit for Les Gets since the pumptrack could be disassembled, moved, and stored for the winter when the ice rink was in use.
See how quickly PARKITECT modular pumptracks can be assembled: watch the time lapse video above!
Riders of all ages enjoy this pumptrack in Les Gets, France.
Benjamin Mugnier, Marketing and Commercial Director for tourism and sports facilities at Les Gets, says, "We weren't familiar with the PARKITECT brand, but we knew Rémy Roche as an experienced rider, trail builder, and park designer. We relied on E2S know-how on the matter, and we liked the modularity of the track compared to other proposals."
Mugnier agreed that a modular pumptrack would be a great amenity for the central village location. The Pumptrack du Centre, as it's called, was installed in the town square in 2013 and proved their logic right.
"The pumptrack is very popular in Les Gets," says Roche. "Now riders have fun from May to October in the center of the resort!" The pumptrack brings together all ages, abilities, and equipment and unites the tribes of biking: cross-country, downhill, freeride, dirt, and even BMX, who all relish the thrill of the coaster-like track.
"People ride scooters and skateboards on the track too," says Mugnier. "A lot of kids like to run on it as well!"
"The pumptrack is a lot of fun and helps riders to improve their skills too,"

Remy Roche

Co-founder, E2S Company
It's an ideal feature for a bike park because it's an easy and inviting way to introduce beginners to biking while at the same time a challenge for experienced riders who can work on skill progression.
Throughout the summer, the pumptrack hosts a weekly Monday night Pumptrack Challenge where novice riders compete for prizes in a fun, relaxed atmosphere just before Welcome Drinks in the village center.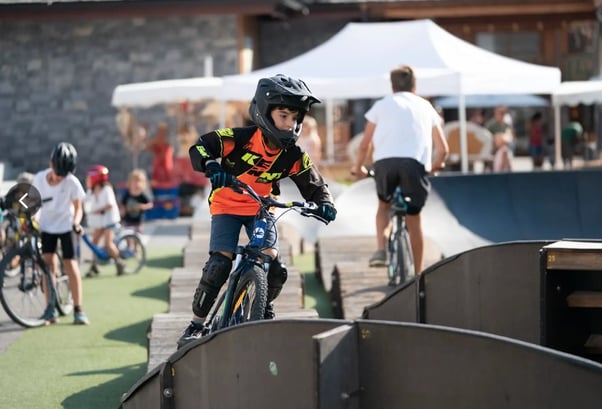 Fierce competitors are found every Monday during the Pumptrack Challenge. Credit:

Benjamin Mugnier
Modular pumptracks offer several perks for municipalities, including low cost, quality assurance, and health and safety certification, making them quick and easy to install and manage.
Another benefit of a prefabricated track is that it gets all the angles right. The curves and slopes of a pumptrack require precise geometry to help riders maintain speed around the track. For instance, if the space between rollers is too long, the rider will lose speed and won't be able to make it up the next rise without pedaling. Modular tracks are designed for pure flow all around the course.


Morzine Ski Holiday resort hosts a plethora of guests on their outdoor pumptrack. Credit: Morzine
While a pumptrack is a natural fit for a bike-loving town such as Les Gets, it can also be a stand-alone feature in any playground or recreation area. Pumptracks aren't just for bikes either. Scooters, skateboards, inline skates, and all kinds of wheeled vehicles can ride the pumptrack. With more than 40 pumptracks in the Haute-Savoie region, the passtime is hugely popular and continues to grow.
After nine years of fun with the pumptrack, Les Gets is now purchasing another PARKITECT pumptrack. Here's to another decade of bike-riding joy in the heart of Les Gets!