Bike Park Beginnings
You've heard of skate parks, amusement parks, national parks, water parks, and maybe even innovative playground parks.
But have you heard of bike parks?
Though bike parks are appearing in communities all over the world, they are still a new concept for some. If you're lucky, you may have one close to your home or have visited one nearby. That's in large part due to a trend in active play spaces that has grown considerably over the past 20 years: bike parks.
What Has Caused the Increase in Demand for Bike Parks?
A recent check on Google shows that the search "bike parks near me" increased by 900% over a three month period. From urban pocket parks to huge mountain resorts with lift-accessed trails, bike park building is growing at an exponential rate all over the world.
What's behind this enormous demand for bike parks? Well, several things.
1. The COVID-19 Pandemic
The COVID-19 pandemic accelerated the growth of biking, instigating what has been called "the great bicycle boom of 2020." Cycling became a way to safely escape lockdown, with seasoned bikers getting out more often and lots of new participants falling in love with the sport. Bike sales surged and trail and track building along with it.
2. Big Benefits from Bike Parks
Bike parks, also called bike hubs, bike skills parks, or bike tracks, provide benefits for both individuals and communities. Bike parks offer riders fun, fitness, and an outdoor escape. (Though bike parks can be created in indoor spaces as well.) Bike parks keep communities healthy too, by providing a place for social gathering, family-friendly activities, and recreation accessible to people of all ages and abilities. They often stimulate the local economy, attracting business to restaurants, bike stores, and nearby shops.
3. Pack a Punch into a Small Space
You don't need a lot of space to create a bike park. Even a tiny corner of land can be transformed into a cool little pumptrack. In Weatherford, Texas, local officials and the area bike club turned a dilapidated tennis and basketball court that residents called "the Pit" into a bike track with rollers and ramps that help beginners learn bike skills and get stoked about riding.
Before and after photo shows the amazing potential of pumptrack bike parks! Credit: Freehubmag
4. Revitalize the Neighborhood
In Springfield, Virginia, a pumptrack in a pint-sized community park has drawn out the neighborhood, providing a place for kids and adults to get outside and get active, and has led to a demand for added cycling infrastructure.
"The Brookfield Park pumptrack has been enjoyed tremendously," says Julie Childers, executive director of Trails for Youth, who spearheaded the project. "The community loved it and asked for more bike trails, so now we've added a skills track with wooden features. The pumptrack shined a light on an underutilized and misused space, and now the park has added playground equipment and improved the picnic areas. It's become a gathering space for the community."
"The pumptrack shined a light on an underutilized and misused space, and now the park has added playground equipment and improved the picnic areas. It's become a gathering space for the community."

Julie Childers, Trails for Youth
Transportation to faraway parks and trails was a key barrier for area residents, so having the park right in the neighborhood has proven valuable. "A pumptrack was perfect for this small space," says Childers. "It's close by, it's fun, it's an all-over workout, you can have several people on the track at a time, and it's helped to revitalize the area for our diverse community to enjoy and experience mountain biking."
Trails for youth organization hosts a community bike day. Credit: Trailsforyouth.org
5. Pump Up an Existing Park
As part of a city-wide park improvements project, a new pumptrack is planned in Crown Festival Park in Sugarland, Texas. The site allows the city to use existing infrastructure, including lights, pavement, parking, and drainage. Director of Parks and Recreation, Joe Chesser, says, "Pump tracks are growing in popularity worldwide and provide an opportunity for riders of all ages and skill levels to enjoy fine tuning their riding skills. We believe the pump track will be a community amenity that could also become a destination for cycling competitions and an important part to the city's desire to attract people of all ages to our city."
6. Get People Outside and Active
A new bike park In Westland, Michigan, just west of downtown Detroit, has spurred a major influx of riders. Hines Park Bike Park includes a pumptrack and a bike skills park filled with challenges like elevated ramps and wood berms.
Wayne County Parks Director Alicia Bradford began considering the bike park in 2018, after a number of enthusiastic young people wrote her requesting one. Bradford is delighted with how well the bike park has been received by the community. "It's really had a tremendous impact," says Bradford, "not only for the mountain bikers but also just as an amenity for park users, period."
"We'll be staying on the pulse of whatever trends may come into play with bike parks. And if there's some additional upgrades or skill loops that we need to expand, then we'll look to do that."

-Alicia Bradford

Director, Wayne County Parks
The project has drawn droves of residents outdoors and earned a 2021 Park Design Award from the Michigan Recreation and Parks Association. The bike park is free to the public and open to riders of all ages. "We'll be staying on the pulse of whatever trends may come into play with bike parks," says Bradford. "And if there's some additional upgrades or skill loops that we need to expand, then we'll look to do that."
Hines Park Bike Park. Photo Credit: Wayne County Parks
Destination Bike Parks Around the Globe
On a larger scale, resorts all over the world are adding bike parks to their amenities or even building destination bike parks that draw in enthusiastic riders for bike vacations. In North America, huge parks like Spider Mountain, Mountain Creek, Trestle, and Whistler draw millions of visitors every year and host bike festivals, races, and competitions.
Spider Mountain: Biking Is the Big Draw
With its warm southern weather, Spider Mountain is the only year-round, lift-served bike park in the U.S. and offers ride-in, ride-out accommodations to guests. Located on the banks of Lake Buchanan, northwest of Austin, Texas, the park provides bike trails ranging from beginner to expert along with lake activities, a lodge, camping, and a marina.
Take the easy route: Spider Mountain bike park offers a bike lift to get visitors to the top. Credit: Spider Mountain
Mountain Creek Bike Park: A Breath of Fresh Air
For over 20 years, East Coast riders have flocked to Mountain Creek Bike Park in Vernon, New Jersey. Just an hour's drive from New York City, the park offers an outdoor escape from the Northeast megalopolis with world-class lift-served mountain biking on more than 50 trails and 1,000 feet of elevation.
Riders enjoy escaping to Mountain Creek Bike Park for an outdoor escape. Credit: Mountain Creek Bike Park
Trestle Bike Park: Summertime Fun at Winter Resorts
Winter Park, the popular Colorado ski resort, is better known to summertime visitors as the home of Trestle Bike Park. One of the country's largest bike parks, Trestle continues to grow and supports huge rental and demo bike fleets, welcoming both experienced riders and those who are new to bike parks. Its pumptrack is surrounded by the stunning natural scenery of the Rocky Mountains.
Whistler: Bike Park World Capitol
The mother of all bike parks, Whistler draws millions of riders to Canada from across the globe to experience its massive park with over 4,926 vertical feet of lift-serviced, adrenaline-fueled trails. Every year, Whistler hosts the Crankworx World Tour, a 10-day bike festival considered the Super Bowl of extreme biking. The event includes competition in several disciplines, including the Ultimate Pump Track Challenge which takes place on a track newly designed and created each year just for the race.
Watch the 2022 Whistler Ultimate Pump Track Challenge here.
The phenomenal growth in bike parks and pumptracks goes beyond the borders of North America to Australia, Austria, Africa, and on. When Parkitect founder Erik Burgon built his first bike park in Finale Ligure, Italy back in 2002, he could only dream of the huge explosion of bike parks that would spread across the globe. The first bike park of its kind in Europe, the Finale Ligure project was an immediate success and led to builds throughout Europe.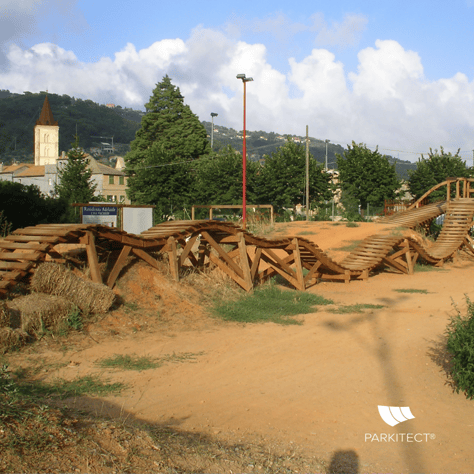 Our original pumptrack built in Finale Ligure, Italy, which boasts a world-class bike park today.
Check out this pumptrack world map to find bike parks all over the planet.
Bike Republic Sölden: Bike Fun for Locals and Visitors, Toddlers to Oldtimers
In the heart of the picturesque Austrian Alps, the entire town of Sölden embraces biking, with hotels, businesses, and of course the park, Bike Republic Sölden, catering to bike enthusiasts. The park has two pumptracks. The more advanced Bäckelar pumptrack sits right in the village center, and the Sunny pumptrack has a sun terrace where riders and observers can watch and relax.
Dominik Linser, managing director of Bike Republic Sölden, says having a pumptrack in the village attracts visitors and helps them hone their skills for other areas of the bike park.
"In general, bike parks and pumptracks attract and strengthen the community. The guests have fun in the bike park and at the end of the day they come down to the pumptrack area where snacks and drinks are being offered. So it's more than just a pumptrack, it's a place to communicate."

Dominik Linser

Managing Director, Bike Republic Sölden
Sölden's bike park and pumptrack have been extremely successful. "We have now been able to record a two-digit growth rate for the eighth year in a row," says Linser. "The park boosts summer tourism and keeps the employees busy all year round as well as attracting the locals the whole year. Before we built the pumptrack and bike park, we only had three local kids in the bike club. Now, about 150 local children are training in the bike park or in the pumptrack."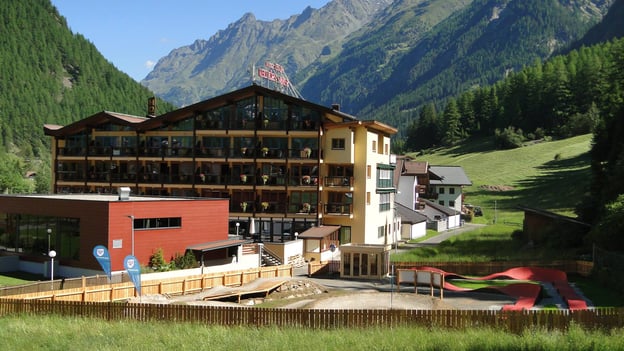 A stunning setting for a Sölden pumptrack. Photo courtesy of PZ Pumptrack Austria.
Up and coming bike hero on Sölden's Sunny pumptrack.
Mount Buller Bike Park: Bringing Out the Pumptrack in the Green Season
When the snow melts, the Mount Buller Bike Park attracts "green season" visitors to Victoria's largest ski resort, approximately 129 miles northeast of Melbourne, Australia. The bike park packs in plenty of gravity and cross-country trails and a modular pumptrack in the village. Australia's first modular pumptrack, the track is composed of 88 interchangeable parts and can be moved or reconfigured, almost like a giant lego set.
Ed Steenbergen, project manager at Mount Buller, says, "The pumptrack is a complement to the kilometers of gravity and cross-country mountain bike trails on the mountain. Riding the track is great practice for body movement over bumps and using berms. We set it up after the snow season in the village square as a popular green season activity."
Turracher Höhe Bike Park: Movable, Storable Pumptracks
Austria's Turracher Höhe Bike Park chose to go with modular pumptracks as well. Corinna Gotthardt, from Turracher Höhe's marketing team explains, "The modular pumptracks are perfect as we need the skill area space in winter for skiing and parking and because they have a perfect flow and are compact to store. Our two pumptrack areas are perfect spots to learn biking or entertain the kids on their bikes, scooters, skateboards, etc."
Credit: Turracher Höhe Bike Park Photo
Watch the video above to see Turracher Höhe bike park
KwaDebeka Bike Park: Strengthening Communities
We've written about the KwaDebeka Bike Park in Durban, South Africa, which was built with the intention of bringing riders of different backgrounds together and growing the love of cycling in underserved communities. The pumptrack was designed and built by Velosolutions in cooperation with the Go!Durban cycling academy, whose goal is to encourage youth to be their best.
"The aim of the GO!Durban Cycle Academy is to inspire and motivate the youth through sport. Together with Durban Green Corridors, we are transforming previously disregarded or unusable areas into clean, accessible, and safe spaces for the youth to engage in active learning through our youth development programme which includes sports, education, and life skills components," says Thami Manyathi, Head of the eThekwini Transport Authority.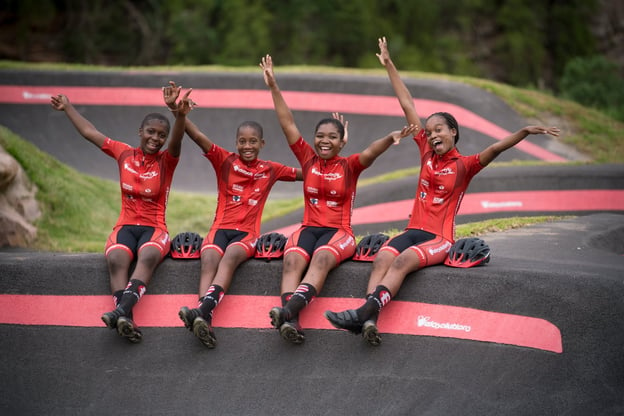 The all-female Velosolutions Izimbali team from Durban pose atop the pumptrack at the KwaDebeka bike park.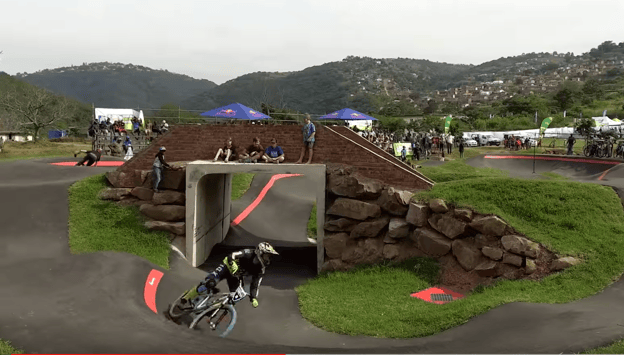 The Kwadabeka bike park in Durban, South Africa was built to bring riders of different backgrounds together. Credit: Velosolutions
Bottom line: If your community is looking for a way to increase
✅ Outdoor recreation
✅ Alternatives to traditional sports
✅ Mental and physical health
✅ Social interaction
✅ Activities for all ages and abilities
✅ Economic stimulus
✅ Attracting visitors
✅ Revitalizing underused areas
✅ Supporting underserved populations
✅ Overall quality of life
✅ Fun!
Then a bike park (which–*bonus*–often includes a pumptrack) may be just the thing your community needs.